CONTRIBUTION TO NATION BUILDING AND INDUSTRY GROWTH
Our business is driven by our clear Statement of Purpose – We Create Places People look forward to, Progressing Lifestyle for a Sustainable Future. We create positive experiences for our stakeholders in the places they work, shop, socialize and live. Our chosen sectors offer us numerous market opportunities that we address by managing our portfolio of assets.
Our success is based on our expert team and solid balance sheet. Together, these provide resilience in uncertain conditions and the power to address opportunities. Across the Group, our approach is characterised by customer centricity and a culture of accountability with an enterprise mindset – all underpinned by an industry-leading approach to sustainability.
Ultimately, our aim is to create sustainable shareholder returns, together with significant social and economic value for our stakeholders.
We collaborate with our stakeholders, particularly our tenants and customers, to ensure we emerge from the COVID-19 pandemic in a strong position. As part of our obligation towards the nation's economic growth, we paid RM81.9 million in tax to the Government for the year.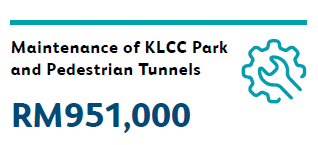 COMMITMENT TO CAPITAL MARKET DEVELOPMENT
We forge strong relationships with our shareholders as well as with our banks and sukuk holders who provide our equity and debt funding. As a listed company we have a responsibility to those individuals and institutions who have invested money in our business either through equity (our shareholders and joint venture partners) or debt (our banks and sukuk holders) to deliver long-term and sustainable returns on their investment.
We ensure regular communication with our investors through an extensive programme, mainly managed by a dedicated Investor Relations team. The engagements were conducted via various platforms – one-on-one meetings, conference calls, analysts' briefings, and site visits to KLCCP Stapled Group properties as well as at capital market conferences. The Annual General Meeting normally also provides an excellent opportunity to meet many of our retail shareholders and answer their questions about the business but due to the pandemic we transitioned to host the AGM in a fully virtual mode which allowed shareholders to participate online and raise their questions. We had 1,003 shareholders who logged on to the Remote Participation and Voting Facility and all 74 questions raised by the shareholders were answered during the live AGM proceedings, including those from our major shareholders, EPF, MSWG and PNB.
Our website contains comprehensive information about our strategy and performance, regulatory news and press releases as well as information about our debt and our approach to ESG issues.
During the year under review, the Senior Management and the Investor Relations team held meetings with representatives from 125 institutions and parcitipated in 7 conferences and analysis briefings to update them on our performance and to provide an opportunity for them to ask questions. These investor interactions enable our investors to be updated on our business and allow us to understand their priorities and concerns. This feedback is vital to help shape our strategy and our communications and disclosure to make sure that we are meeting their expectations.

DIGITALIZATION
The creation of our Digital Roadmap (2020-2023) was an important part of digilization process, reflecting our belief that we should consider investments in data and technology in the same way that we consider investments in physical assets. The industry within which we operate offers significant opportunities to make changes that not only help improve efficiencies, but also help us make better and more informed decisions. Key to this is a focus on enhancing operational excellence in the areas of project management, facilities management and safety and security.