Prosperity
ADVANCING ECONOMIC RESILIENCE
5-Year Sustainability Roadmap (2019-2023)

Goal 1: Building a Smart, Safe and Sustainable KLCC Precinct


As a real estate player, KLCCP Stapled Group plays an important role in creating a positive environment and contributing towards the country's socio-economic development. We have achieved significant milestones, being the largest REIT and only stapled security in Malaysia with a diversified asset portfolio, strategically located in Kuala Lumpur's most premium location. We endeavor to create long-term value and deliver sustainable returns and yields for our holders of Stapled Securities, towards economic resilience.
Our Approach
Our economic contribution is delivered by going beyond business-as-usual to create value for our shareholders and stakeholders including our customers, employees, suppliers, regulators and the Government. We are committed to manage our business responsibly and align our business processes and strategies to support sustainable development and growth across our operations.
We acknowledge our role in contributing positively to the industry's and the nation's growth through nation building, spurring social development, enhancing customer experiences, providing building-to-building connectivity, being the catalyst for surrounding development and providing the balance between commercial, public space and greenery through sustainable development.
Focus For The Year
1
Supporting Government's effort in economic recovery through campaigns for local entrepreneurs
2
Raising business resilience and business continuity in responding to the market and economic challenges
3
Building trust through continued engagement with investment community via virtual platforms
4
Elevating customer, guest and community experience, leveraging technology and data analytics
Our Material Matters
KLCCP Stapled Group focuses its priority to drive sustainable growth and create significant value for its stakeholders through various strategic efforts. These strategic priorities coupled with our diligent monitoring of our financial, operational initiatives and cost optimisation efforts results in KLCCP Stapled Group delivering a stable performance and sustainable returns to the holders of Stapled Securities.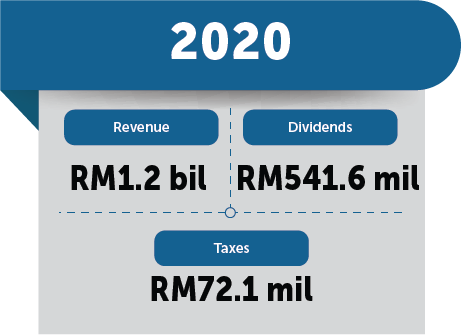 KLCCP Stapled Group is dedicated to enhancing real estate development to facilitate economic growth whilst promoting societal well-being. Our development within the KLCC Precinct has long been the catalyst for growth, in particular for the city of Kuala Lumpur, making its mark as an iconic destination and is today becoming The Place that people look forward to coming to. Having all the components of a city-within-a-city, it is a place where people converge for business and leisure, bridging people together and building a stronger sense of community.
Driving Sustainable Growth
Customer and Guest Experience

Secured 40 new retail tenants which included six first-to-market tenants and exclusive to Suria KLCC, providing a wider mix of retail offerings to meet current demands
Boosted sales and drove footfall to our retail mall through promotional activities, reward programmes, discount vouchers and other incentives to shoppers such as the "Golden Ticket" reward campaign where shoppers spent a minimum of RM150 and were eligible to draw RM5000 Suria's cash vouchers that can be spent at any participating outlet
Introduced exciting hotel offerings which included staycation packages, meeting packages and new F&B experiences

Spurring Economic Growth

Supporting the Government in the Buy Malaysian Campaign 2020 as a venue sponsor for the campaign launch and Suria KLCC as the venue for the local entrepreneurs to showcase their products during the campaign
Suria KLCC collaborated with community interest group, the Komuniti Tukang Jahit to support the low-income earners affected by the pandemic
Completed the 10-metre new pedestrian bridge connecting Menara Dayabumi to Central Market enhancing connectivity surrounding the older business district of Kuala Lumpur

Nation Building

One of the largest integrated real estate developments in the world and a much sought-after business address. A benchmark for property development in the country, spurring economic activities within and surrounding the development, creating a vibrant place for people from all walks of life
KLCC is the home to many iconic attractions. It has become The Place where business thrives and a must visit destination for both local and foreign tourists alike
Maintaining public infrastructure such as the pedestrian bridges and tunnels surrounding KLCC Precinct and Menara Dayabumi to ease connectivity to and from the city centre
Digitalisation
| | |
| --- | --- |
| Integrated Building Control and Command Centre (IBCC) | Pilot launch of the Integrated Building Control and Command Centre (IBCC) for the operations of all facilities within KLCCUH that provide real-time and automated monitoring and reporting |
| Smart Alert Video Analytics for HSSE Non-Compliance | Establishment of smart alert video analytics for HSSE non-compliance, People Counting Sensor and People Heatmap video analytics within KLCC Precinct common areas and real time facial recognition. The video analytics is equipped with features that can detect suspicious activities in real-time and send alarms for security's action |
| NWD Car Park Cashless Payment Solutions | Transformation of NWD car park into fully ticketless and cashless payment car park with total digital surveillance |
| Digital F&B Menus at MOKL Hotel | Conversion of F&B menus of all MOKL Hotel outlets into digital menus with QR codes |
| Digital Marketing for Retail mall and Hotel | Suria KLCC and MOKL Hotel produced electronic/digital materials for sales, spa and F&B as e-Flyers of promotions/offers, for ease of sharing via WhatsApp and emails |
| HSE Digital Communications | Suria KLCC produced videos on mall's health and safety measures to communicate adherence to strict hygiene and safety standards |
Commitment to Capital Market Development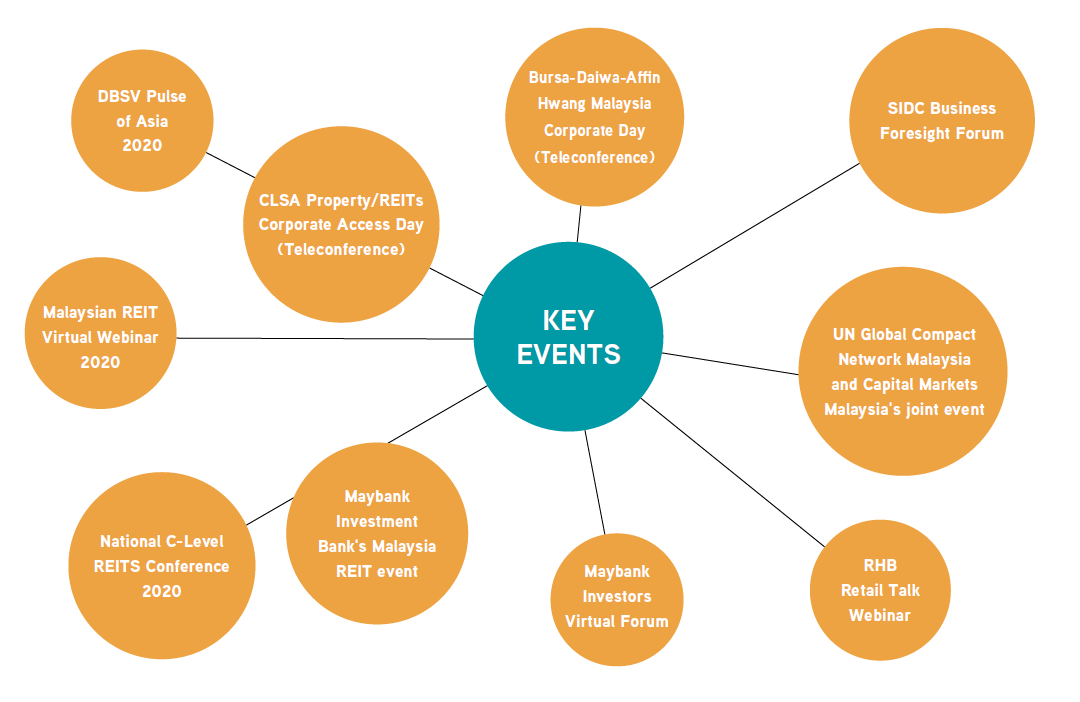 Promoting Industry Growth through Affiliations
KLCCP Stapled Group promotes industry growth through its various industry associations it supports that are aligned with our shared values. Our memberships enable us to contribute towards the development of the real estate, retail and hotel industries. Through these memberships, we are also able to promote professionalism as well as share best practices in the industry.
Membership
Council of Tall Buildings and Urban Habitat (CTBUH)
KLCCP has been a member of the Council of Patron Level since 1996 and has been actively participating as participants and speakers in conferences organised by the Council.
Federation Internationale des Administrateurs de Bien-Conselis Immobiliers (FIABCI) Malaysian Chapter
KLCCP is a member of FIABCI Malaysian Chapter and supports the Federation through its various events, seminars and talks organised annually
Malaysian Investor Relations Association (MIRA)
KLCCP Property Holdings Berhad registers as a member since 2014. MIRA is the first and only professional association commited to developing and advancing the status and integrity of Investor Relations (IR) professionals
Malaysia REIT Managers Association (MRMA)
KLCC REIT Management Sdn Bhd is a member of the Malaysian REIT Managers Association (MRMA). MRMA also represents its members' interest through engagement with the Malaysian Goverment and regulators for functional regulations, viable structures and tax harmonisation. This ensures Malaysian REITs remain competitive within the region and internationally
Persatuan Pengurusan Kompleks Malaysia
International Council of Shopping Centers
Suria KLCC has been a member of the Persatuan Pengurusan Kompleks (PPK) Malaysia since 1995 and a member of the International Council of Shopping Centres (ICSC) since 2003
KLCC Business Events Alliance
Malaysian Employers Federation
Jactim Foundation
Malaysian Association of Hotel Owners
The Japanese Chamber of Commerce
Persatuan Hotel Malaysia
Mandarin Oriental Hotel's membership in these association enables them to expand their business networking, leverage on the Association's database and solicit for potential business
Planet
PROTECTING OUR ENVIRONMENT
5-Year Sustainability Roadmap (2019-2023)

Goal 3: Combating Climate Change and Reducing Environmental Impact


KLCCP Stapled Group's commitment towards promoting environmental sustainability focuses on delivering sustainable developments, enhancing a sustainable society and cultivating a green and safe corporate culture. We continue to take proactive measures in minimising environmental impact through efficient management of our operations in the areas of Greenhouse Gas emission (GHG), energy efficiency, responsible water and waste management.
Our Approach
At KLCCP Stapled Group, we acknowledge our responsibility and emphasise the needs in raising awareness and understanding of environmental sustainability amongst our business units, stakeholders and the broader community. In line with our Code of Conduct and Business Ethics (CoBE) and as a real estate owner, developer and manager, we aim to minimise disruption to the environment and its adverse impact on the community by reducing the environmental footprint of our buildings and use energy, water and resources more efficiently.
We strive to ensure our decisions contribute to improvements in environmental sustainability, working in-tandem with our tenants in green building initiatives, the local authority, Government and other stakeholders in achieving our targets.

Focus For The Year
1
Increased elimination of single-use plastics at MOKL Hotel and sourced alternative plastics with lower environmental footprint through Alternative Materials Tool
2
Food waste recycling at the food courts and supermarkets in Suria KLCC
3
Replacement of LED lights at common areas in offices, retail and car park as scheduled
Our Material Matters
Peace
EMBODYING GOOD GOVERNANCE

KLCCP Stapled Group is subject to corporate governance requirements set out by the Main Market Listing Requirements (MMLR) of Bursa Malaysia Securities Berhad and best practices as stipulated by the Malaysian Code of Corporate Governance (MCCG) issued by the Securities Commission Malaysia. With greater accountability and transparency, KLCCP Stapled Group strives to strengthen its corporate governance, anchoring it to its organizational culture and aligning it to our shared values that will ultimately secure the confidence and support of the Group's holders of Stapled Securities
Our Approach
At KLCCP Stapled Group, corporate governance practices are more than just compliance. It is our corporate culture encompassing values, attitude and behaviour that we embrace in all areas of conduct and it forms the foundation for our organisation's success. We take a proactive approach in observing high standards of corporate conduct with good corporate governance policies and practices in ensuring the sustainability of the organisation and safeguarding the interests of the holders of Stapled Securities and maximising long-term stakeholder value.
Our commitment to good corporate governance is reflected in the CoBE which guides the organisation in fulfilling its business obligations with utmost integrity and transparency. Our commitment in driving the culture of openness, transparency and accountability are reflected through our adoption of the No Gift Policy and Whistleblowing Policy and our adherence to the Anti-Bribery and Corruption Policy and Guidelines (ABC Manual).
Our continuous effort in managing integrity risk within the organisation reflects our commitment to conduct business responsibly in support of the Group's zero tolerance to bribery and corruption. In managing the risk, the Group has a robust KLCC Resiliency Model which provides an integrated view on the overall strategy for managing risk, focusing on three key areas - Enterprise Risk Management, Crisis Management and Business Continuity Management
Focus For The Year
1
Balance gender representation in Board membership of KLCCP and KLCCRM
2
Independent expert evaluation of Boards Committees for KLCCP and KLCCRM
3
Establishment of Non-Executive Directors Remuneration Framework Voting in absentia for remote participation in Annual General Meetings (AGMs)
4
ABMS ISO 37001:2016 certification for KLCCP, KLCCRM, KLCCUH and KPM
5
Integrated assurance exercise on risks and controls for KLCCP Stapled Group
Our Material Matters
Risk management is an integral part of KLCCP Stapled Group's business at both strategic and operational levels. KLCCP Stapled Group has an established Enterprise Risk Management Governance Framework which outlines the risk policy, risk governance and structure, risk measurement and risk operations and system.
Our Risk Management Oversight Structure comprise the Boards, Audit Committee (ACs), Risk Management Committee (RMC) and the top Management. The structure is used to assign responsibility for risk management and facilitates the process for assessing and communicating risk issues from operational levels to the Boards.
KLCCP Stapled Group has developed a robust KLCC Resiliency Model to provide an integrated view on the overall strategy for managing risk focusing on three key areas:

Initiatives & Performance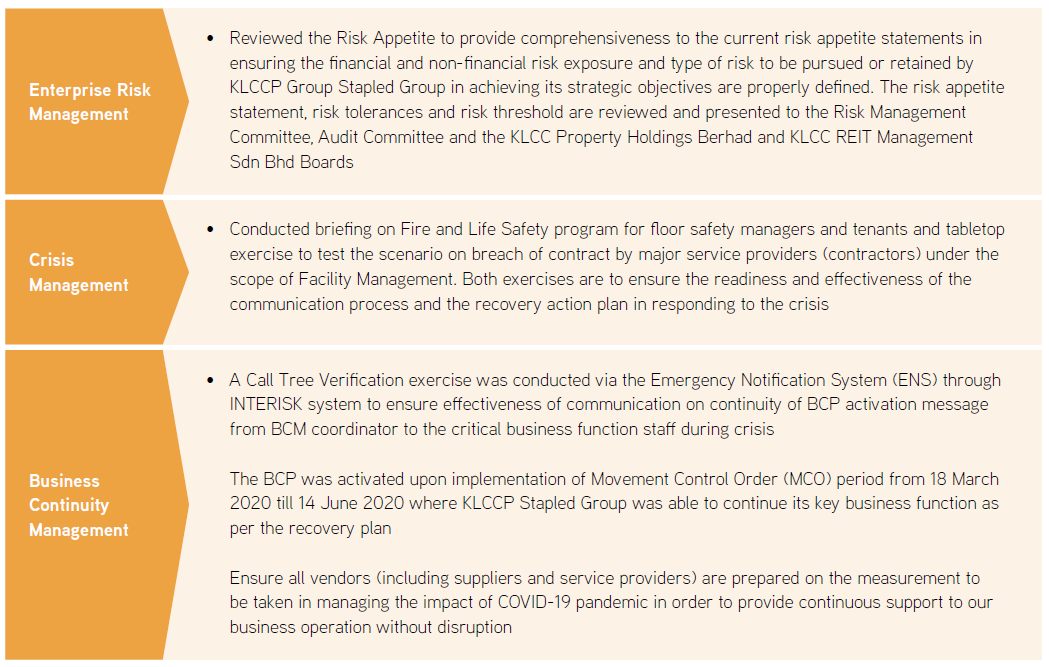 Corporate Governance & Compliance
We take pride and place importance on strong governance culture and implement international best practices across the business segments. We strictly conform to the respective laws, rules and regulations in the country where we operate.
We incorporate elements of sustainability recognising the responsibilities to our stakeholders and acknowledging that the organisation should play an important role in contributing towards the welfare of the community.
We also acknowledge the need to safeguard and minimise the impact to the environment in achieving our objectives. Our good corporate governance reflects our commitment to economic support for longer term sustainability with a focus on the positive impact on the environment, community and society
Business Ethics & Integrity
We are committed to conducting business with integrity, consistent with high standards and business practices and in compliance with all applicable laws and regulatory requirements.
KLCCP Stapled Group adopts and complies with the PETRONAS Code of Conduct and Business Ethics (CoBE) which is embedded throughout our organisation and form the basis for all our policies, procedures, and actions, as well as the personal behavior of our stakeholders.
KLCCP Stapled Group adopts the PETRONAS Anti-Bribery and Corruption (ABC) Manual and has zero tolerance for all forms of bribery and corruption and complies to a No Gift Policy. We also adopt the PETRONAS Whistleblowing Policy which encourages openness and transparency in our commitment to the highest standard of integrity and accountability.
Initiatives & Performance
Asset Declaration and Gift Register was put in force where employees devlared their assets to the organisation to ensure management and employees do not abuse their power for personel gain or acquire assets through unlawful means of dealings
Rollout of the Anti-Bribery Corruption Manual across all employees to serve as a reminder to all employees to maintain the highest standards of integrity at work and in all business dealings
KLCC Group Integrity Action Plan was developed to manage integrity risk and ensure all employees are fully commited to conducting business with integrity and champion our stand on Zero Tolorance against all forms of bribery and corruption
Undertook the Ikrar Bebas Rasuah (CorruptionFree Pledge) in collaboration with the Malaysian Anti-Corruption Commision (MACC) involving our Management Leadership Team
Established Declaration of Conflict of Interest as an avenue for employees to declare a situation of conflict of interest
Risk Management
KLCCP Stapled Group has an established Enterprise Risk Management Framework which outlines the risk policy, risk governance and structure, risk measurement and risk operations and system for the Group. The Risk Management Oversight Structure which consists of the Boards, Audit Committees, Management Committee and Risk Management Committee sets out the structure used to assign responsibility for risk management and facilitates the process for assessing and communicating risk issues from operational levels to the Boards.
Our Boards developed an integrated robust risk management system for business resiliency focusing on three key areas i.e. Enterprise Risk Management, Crisis Management and Business Continuity Management.