About KLCCP Stapled Group
Passionate about Progress
Driven by our aspiration, we have transformed from a property company to Malaysia's largest Real Estate Investment Trust and the country's only Stapled Security. Comprising KLCC Property Holdings Berhad and KLCC REIT, KLCCP Stapled Group represents a diversified office-focused REIT comprising five Grade-A offices which include the nation's iconic landmark, the PETRONAS Twin Towers, a premier retail mall and a luxury hotel. Strategically located in the heart of Kuala Lumpur City Centre, the 100-acre KLCC Development embodies Malaysia's strength and growth and is the nucleus of the city.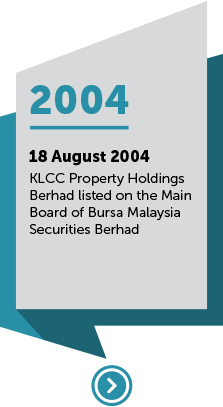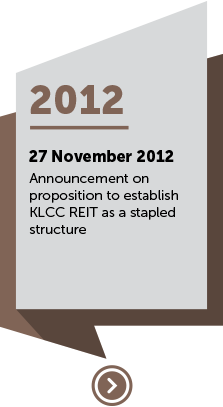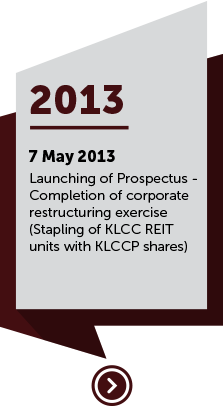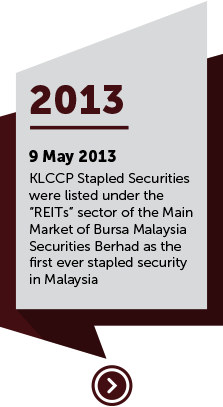 At KLCC, we create THE PLACE for all our stakeholders. By understanding changing market dynamics, lifestyles and through differentiating ourselves, we are able to evolve and transform our destinations to places people look forward to.
The places we create envision the office of tomorrow, where tenants elevate their workplace through greater experiences, connectivity and security.
Our places re-imagine retail spaces, personalising the entire customer journey. We innovate bespoke and seamless hotel experiences, designed to serve the diverse and evolving needs of our guests.
Through developing places people look forward to, we continue to drive enduring demand for our spaces, ultimately delivering both financial and societal value to all our stakeholders.
1
Owner of the PETRONAS Twin Towers, the tallest Twin Towers in the world
2
Largest Malaysian REIT by total assets and market capitalisation, constituting 32% of the Malaysian REIT industry
3
Exceeding RM15 billion in high quality investment portfolio of prime Grade-A office buildings, Malaysia's landmark mall and a luxury hotel
4
Strong balance sheet providing a conducive business environment for future development and long-term stability
5
Well positioned with a development pipeline to drive future earnings growth
Premised on our robust business model, and through our clear operational activities and business practices, we have delivered value beyond numbers across our business.
We deliver value beyond numbers across our business.
Catalyst for Surrounding Development
Our Principles
Our Purpose
We create places people look forward to, progressing lifestyle for a sustainable future
Shared Values
Innovative
Trend setting mentality through creation of new products, ideas and ways of doing
Cohesiveness
United in purpose and fellowship
Loyalty
Loyalty to corporation and nation
Integrity
Honest and upright
Professionalism
Committed, proactive and always striving for excellence
Our Strategy
Creating synergy and delighting customers towards long-term value for our stakeholders
KLCCP Stapled Group's strategic focus is premised on its purpose of creating places people look forward to, converging cultural diversity, commercial vibrancy and sustainable living. With deep real estate experience, unique market understanding and insights and outstanding execution capabilities, we create synergy within our property portfolio, anticipate future tenant and customer needs to deliver long-term value across our business for all stakeholders.
We seek to pursue growth by leveraging on our ownership of premier assets, developments that have low risk - high potential value and choiced landbanks in strategic locations. KLCCP Stapled Group is also well positioned with its strong fundamentals and inorganic pipeline of assets to drive future earnings growth through the Right of First Refusal (ROFR) from the high quality asset portfolio of KLCC (Holdings) Sdn Bhd, our holding company. This ROFR forms a key part of our future earnings growth strategy.
Leverage core capabilities

Deep real estate experience
Asset management expertise
Strong relationship with our stakeholders and business partners
Experienced and highly skilled people

Capitalise on market trends

Unlock value through asset repositioning
Refurbish, reconfigure and refresh tenant mix to improve vibrancy and maintain competitiveness
Unique product and service offerings in meeting customer demands

Active management of capital and risks

Maintain strong balance sheet
Limit exposure of fluctuations of interest
Retain appropriate mix of debt and equity funding

Inherent organic growth strategy for reit-embedded assets

Through portfolio management, asset enhancement, cost-effciency improvements and optimisation of tenant mix initiative

Growth from in-built pipeline strategy for acquisition of properties

Partially owned by KLCCP into KLCC REIT which further realises benefits to the REIT. The Group continues to pursue low-risk, non-speculative developments and redevelopment opportunities that can be potentially considered for REIT as a growth platform

Inorganic growth from right of first refusal granted by KLCC (Holdings) Sdn Bhd and third party acquisitions

Of strategic real estate assets which will be value accretive and add growth to income distribution for the holders of Stapled Securities
Responsible conduct is an integral part of our business strategy which is reinforced at all levels within the Group. We are committed to operate and grow in a socially responsible way and have aligned our business and processes to adopt strategies that support sustainable development across society.
| | |
| --- | --- |
| Strategic Priorities | Objectives |
| Maximising value of investments | Maximising value of our existing investments in ensuring our revenue generating potential remains sustainable amidst the subdued market conditions |
| Resilience in soft market conditions | Business agility to respond and adapt to the new pace of change and strengthening our competencies to amplify our skillsets to match the specialisation and mindset required |
| Creating value through sustainability | Championing sustainability development premised on our strategies and initiatives to drive our sustainable goals economically, environmentally and socially, across all our business operations |
| Embracing digital for business enhancement | "Rethink, Redefine and Redesign the Future" of KLCC Group through a digital transformation |
Group Structure
A novel structure which retains our strategy in assets and unlocks value
The stapled structure of the Group creates a unique value for the holders of Stapled Securities as it benefits from a tax profile of a REIT structure through relevant tax exemptions and provides access to stable REIT distributions as well as capital growth while benefitting from the development of potential assets and the Group's organic growth.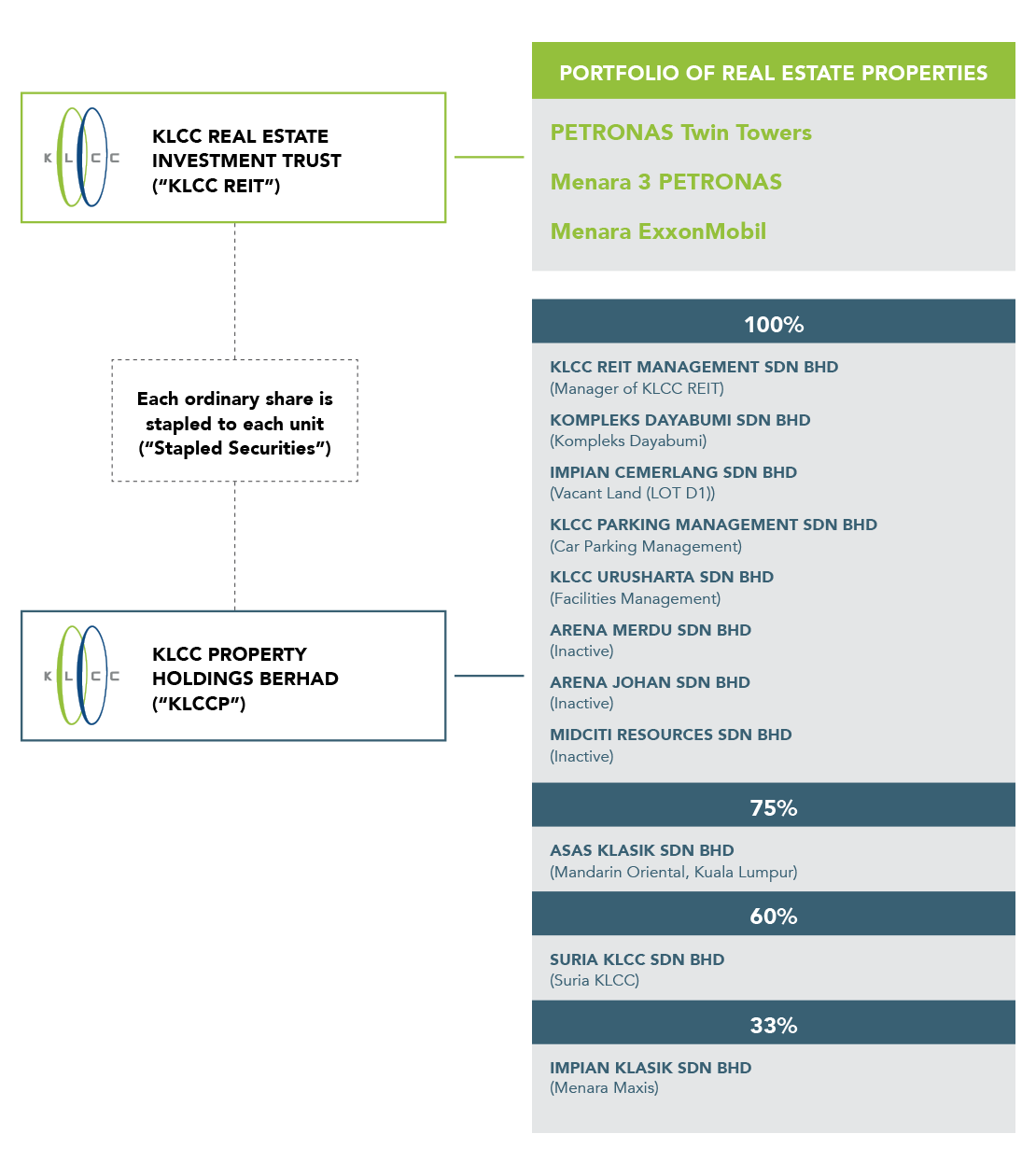 ✔
Unique vehicle (REIT +Development platform)
✔
Allowed for unlocking of value of property portfolio through increased distributions
✔
Existing KLCCP shareholders were able to retain the full upside and ownership of prime assets
✔
Provides strong alignment of interest between KLCCP and KLCC REIT with a common board and management
Board of Directors of KLCCP and KLCC REIT
Board diversity enhancing decision-making perspectives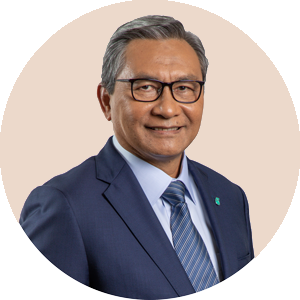 TAN SRI AHMAD NIZAM BIN SALLEH
Chairman/Non-Independent Non-Executive Director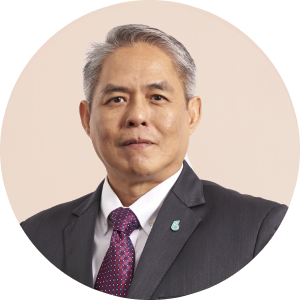 MD. SHAH MAHMOOD
Executive Director/Chief Executive Officer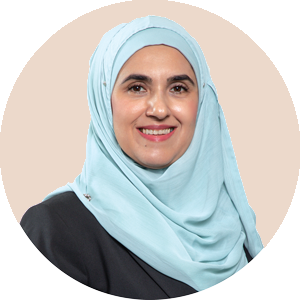 FARINA BINTI FARIKHULLAH KHAN
Independent Non-Executive Director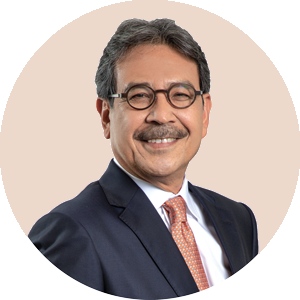 DATO' JAMALUDIN OSMAN
Independent Non-Executive Director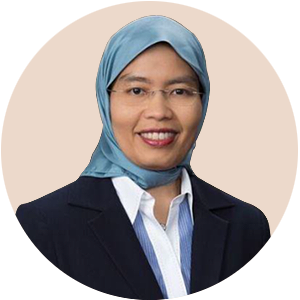 LIZA MUSTAPHA
Non-Independent Non-Executive Director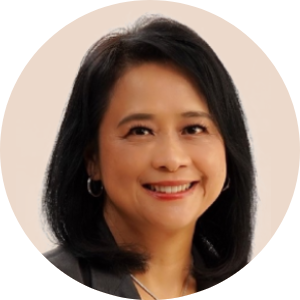 CHONG CHYE NEO
Independent Non-Executive Director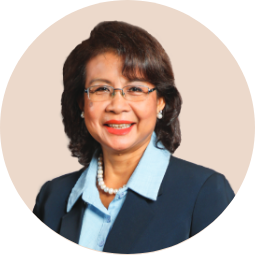 DATIN NOOR LILY ZURIATI BINTI ABDULLAH
Independent Non-Executive Director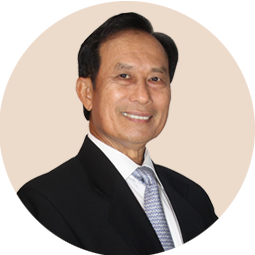 DATO' SR. MAZUKI A. AZIZ
Independent Non-Executive Director
Leadership Team
Inspiring and building trust in the workplace
MANAGEMENT TEAM
KLCC PROPERTY HOLDINGS BERHAD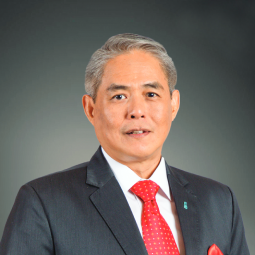 MD. SHAH MAHMOOD
Chief Executive Officer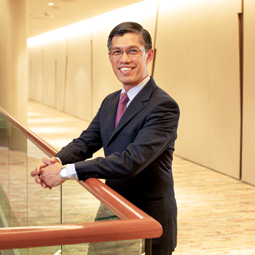 ANNUAR MARZUKI BIN ABDUL AZIZ
Chief Financial Officer/ Chief Investment Officer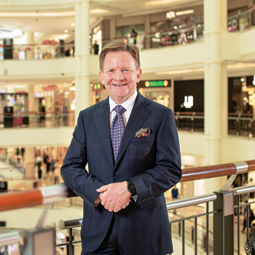 ANDREW WILLIAM BRIEN
Executive Director/Chief Executive Officer, Suria KLCC Sdn Bhd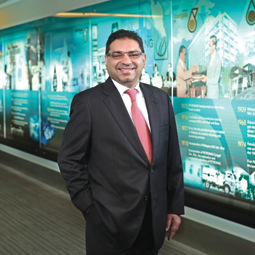 ABD AZIZ BIN ABD KADIR
Head, Legal & Corporate Services Division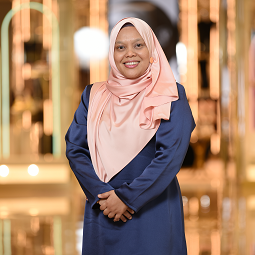 SALHA AHMAD DAHLAN
Head, Human Resource Division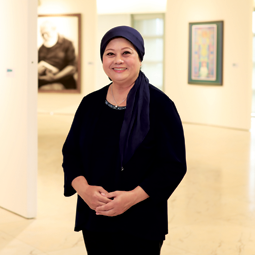 DATIN SR FAUDZIAH BINTI IBRAHIM
Head, Development Division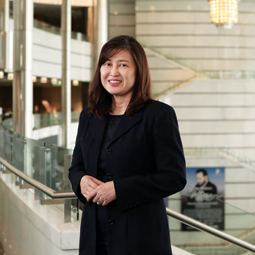 HO MEI LING
Head Department, Group Enterprise Risk Management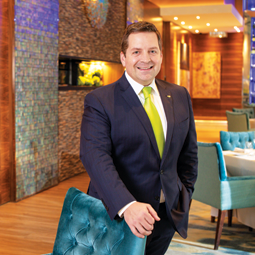 CHRISTIAN TAVELLI
General Manager, Mandarin Oriental, Kuala Lumpur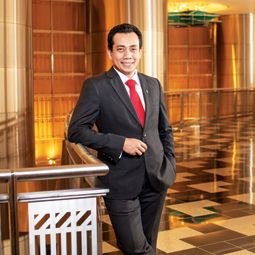 TS. IZWAN HASLI BIN MOHD IBRAHIM
Executive Director/Head, KLCC Urusharta Sdn Bhd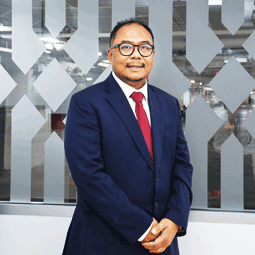 MOHD AKMAM BIN YEOP
Head, KLCC Parking Management Sdn Bhd
MANAGEMENT TEAM
KLCC REIT MANAGEMENT SDN BHD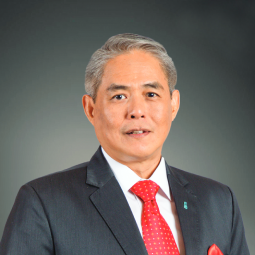 MD. SHAH MAHMOOD
Chief Executive Officer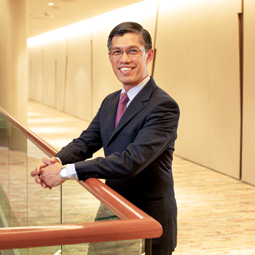 ANNUAR MARZUKI BIN ABDUL AZIZ
Head of Investment/Head of Finance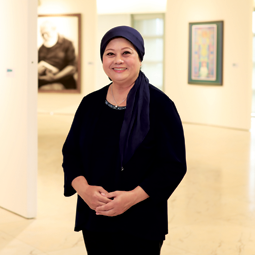 DATIN SR FAUDZIAH BINTI IBRAHIM
Head of Leasing/Asset Manager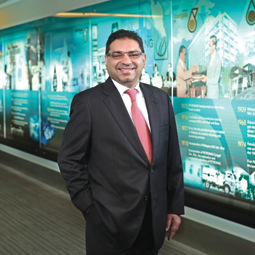 ABD AZIZ BIN ABD KADIR
Head of Legal and Compliance
Awards and Recognition
Industry validation of our continuous improvement and operational excellence
KLCCP Stapled Group
The Asset ESG Corporate Awards 2020, 2021
- Platinum Award for Excellence in Environmental, Social and Governance (ESG)
The Sustainable Business Awards Malaysia 2020/2021
- Supply Chain Management
- Business Ethics and Responsibility
National Annual Corporate Report Awards (NACRA) 2020
- Best Designed Annual Report (Silver Award)
PWC's Building Trust Awards 2019
- Top Finalist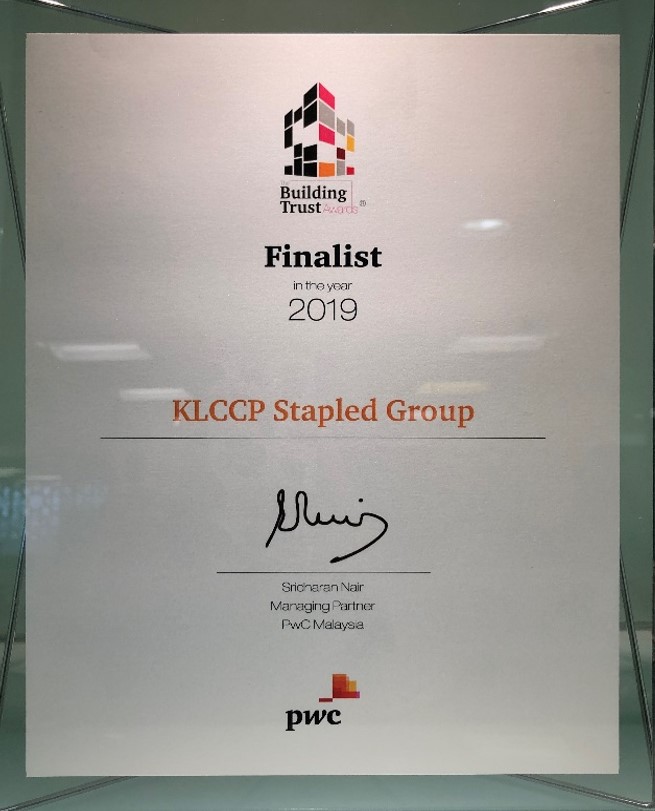 The Asset ESG Corporate Awards 2019
- Gold Award for Excellence in Environmental, Social and Governance (ESG)
The Australasian Reporting Awards 2019
- Bronze Award for KLCCP Stapled Group's Annual Report 2017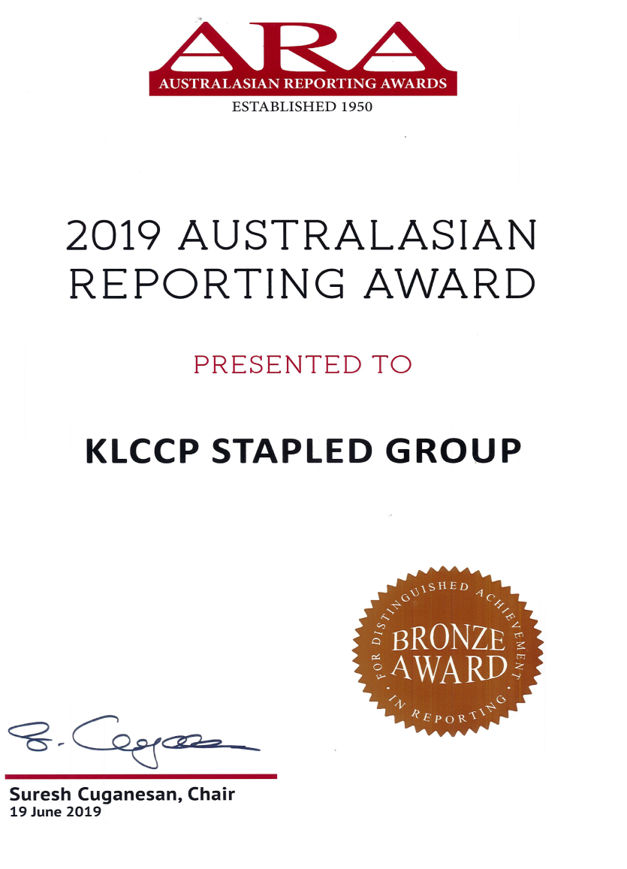 The 11th Annual Global CSR Summit & Awards 2019 & The Global Good Governance Awards 2019 - The Best Governed and Transparent Company (Gold Award)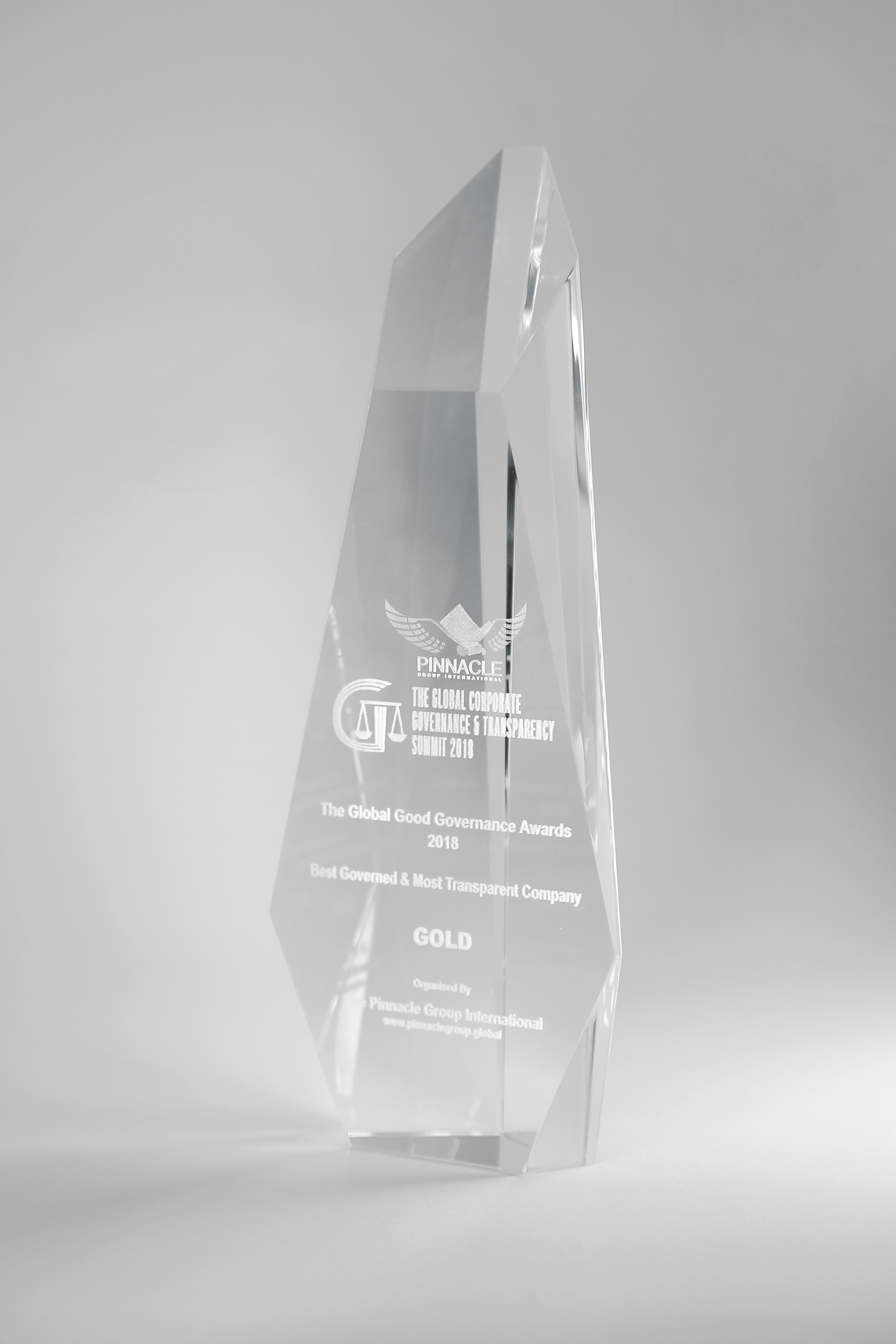 The Sustainable Business Awards Malaysia 2018, 2019
- Best Workforce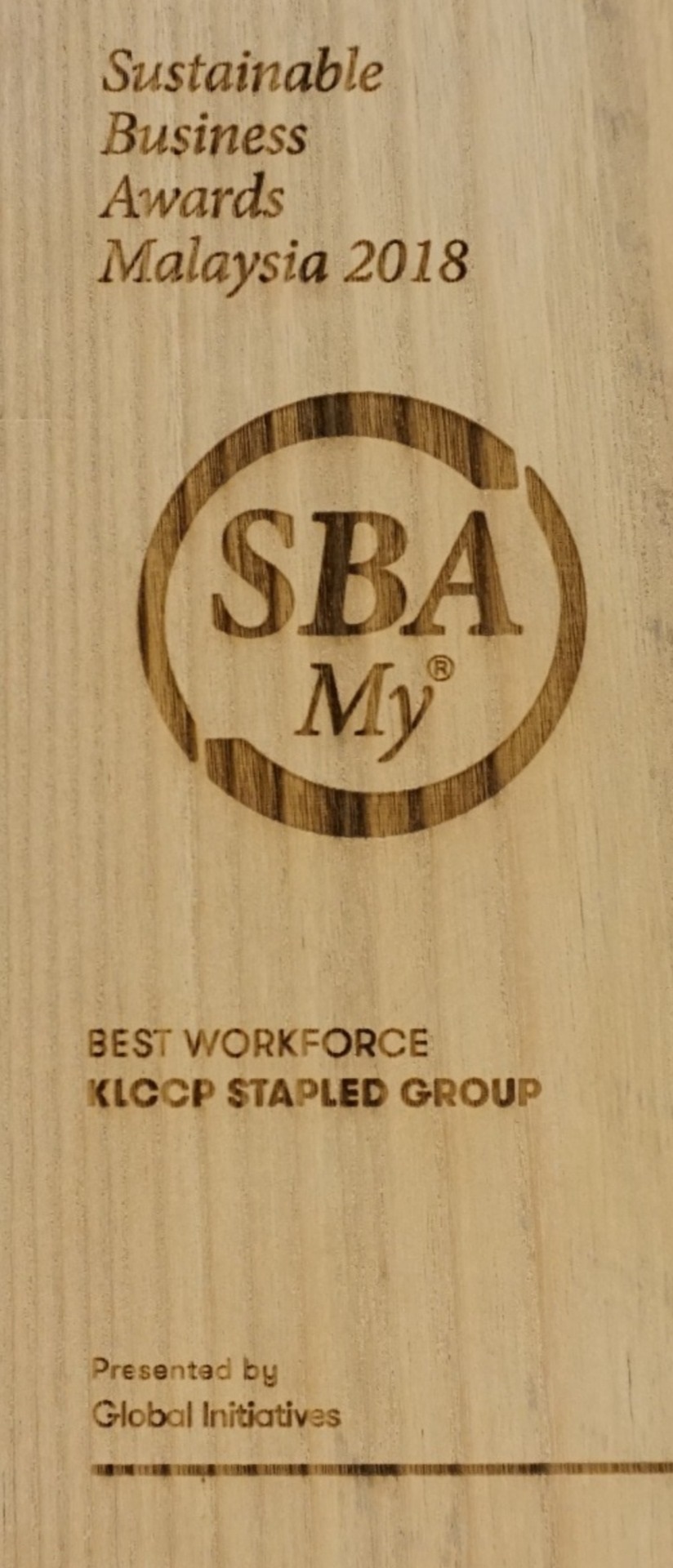 The Asset Corporate Awards 2018 - Excellence in Environmental, Social and Governance (Gold Award)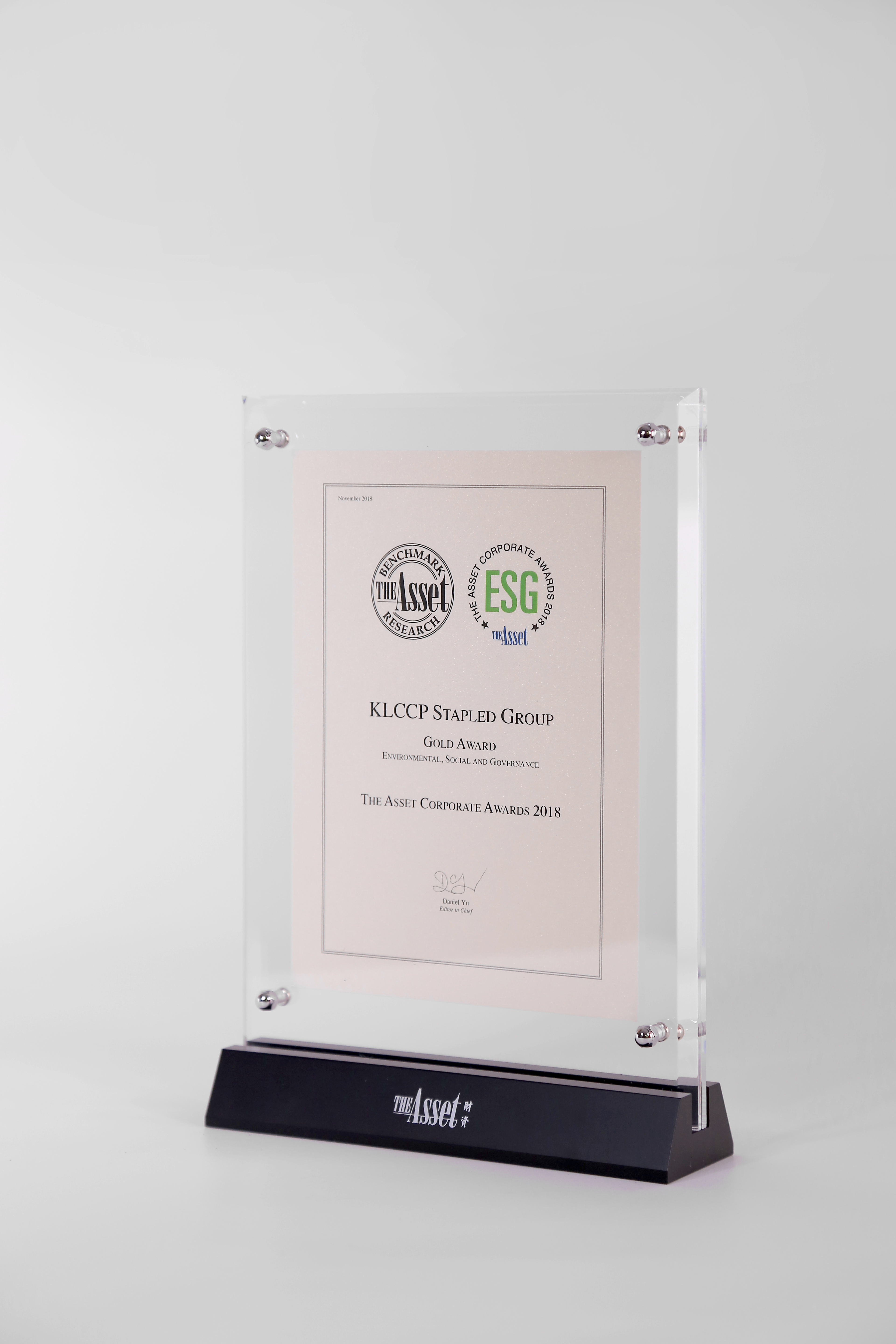 National Annual Corporate Report Awards (NACRA) 2018, 2019

- Industry Excellence Awards in REITs & Investment Funds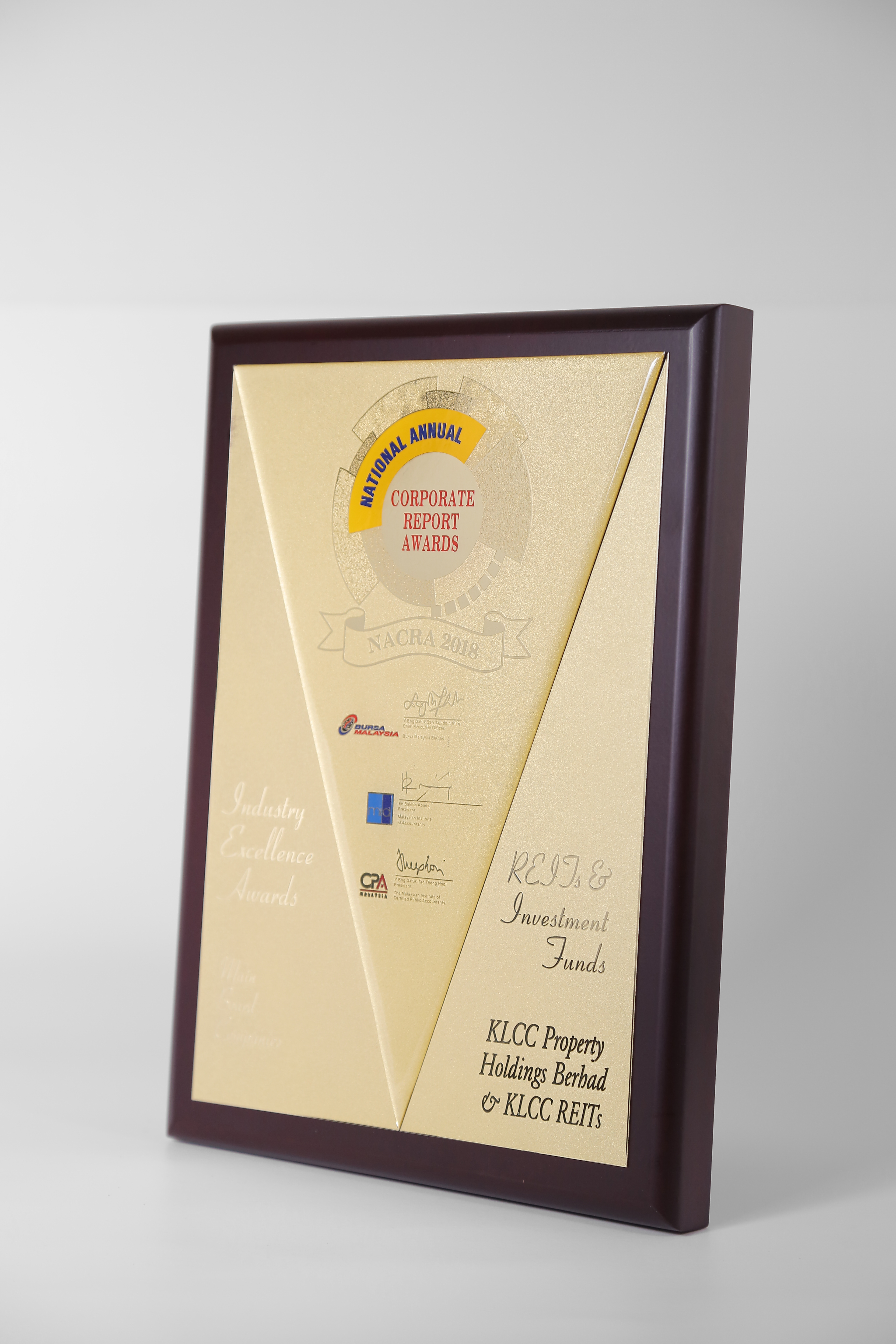 The 10th Annual Global CSR Summit & Awards 2018 & The Global Good Governance Award & Summit 2018
- The Best Governed and Transparent Company (Gold Award)
IR Magazine Awards & Conference South East Asia 2017
- Certificate for Excellence in Investor Relations
National Annual Corporate Report Awards (NACRA) 2014, 2016, 2017
- Certificate of Merit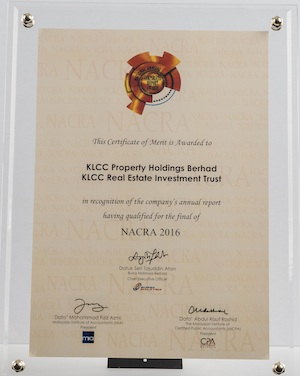 CFI.CO Asset Management Awards 2016
- Best Shariah-Compliant REIT Malaysia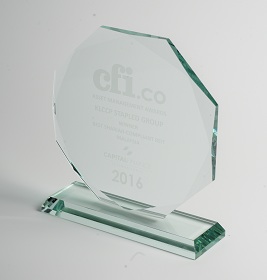 KLCC Property Holdings Berhad
ARC Awards 2020
- Best of Malaysia (Grand Winner)
- Best of Specialised Annual Reports: REIT & Stapled Securities
ARC Awards 2019
- Best of Traditional Annual Reports in Asia Pacific
The Asia Corporate Excellence and Sustainability (ACES) Awards 2019
- Top Workplaces in Asia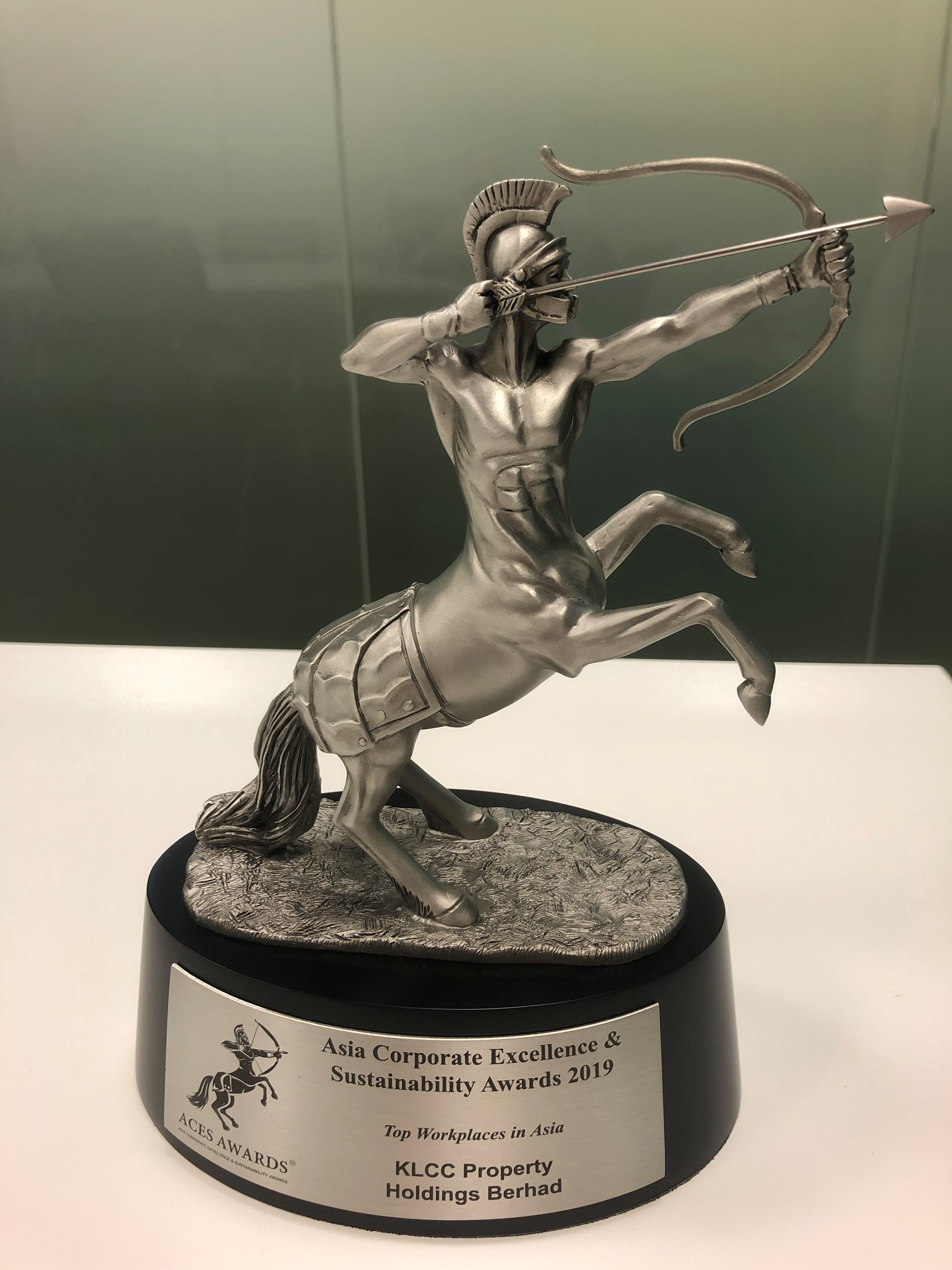 The EdgeProp Malaysia's Best Managed Property Awards 2019
- Bronze Award for Above 10 years non-strata office category (Menara Dayabumi)
ACCA Malaysia Sustainability Reporting Awards (MaSRA) 2017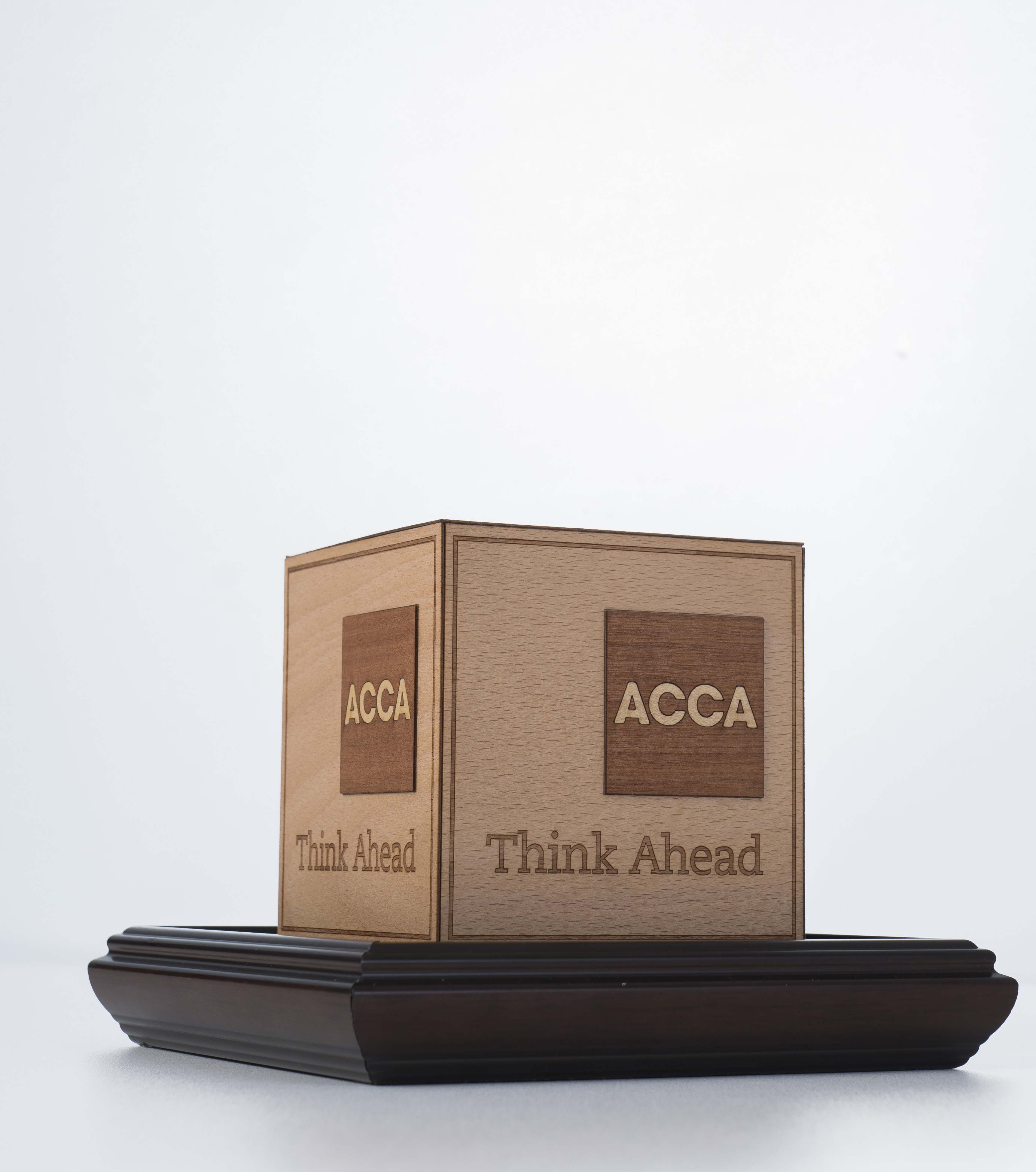 - Shortlisted Report
Southeast Asia's Corporate - Institutional Investor Awards 2017 (Malaysia)
- Best Senior Management Investor Relations Support
- Most Consistent Dividend Policy
- Best Strategic Corporate Social Responsibility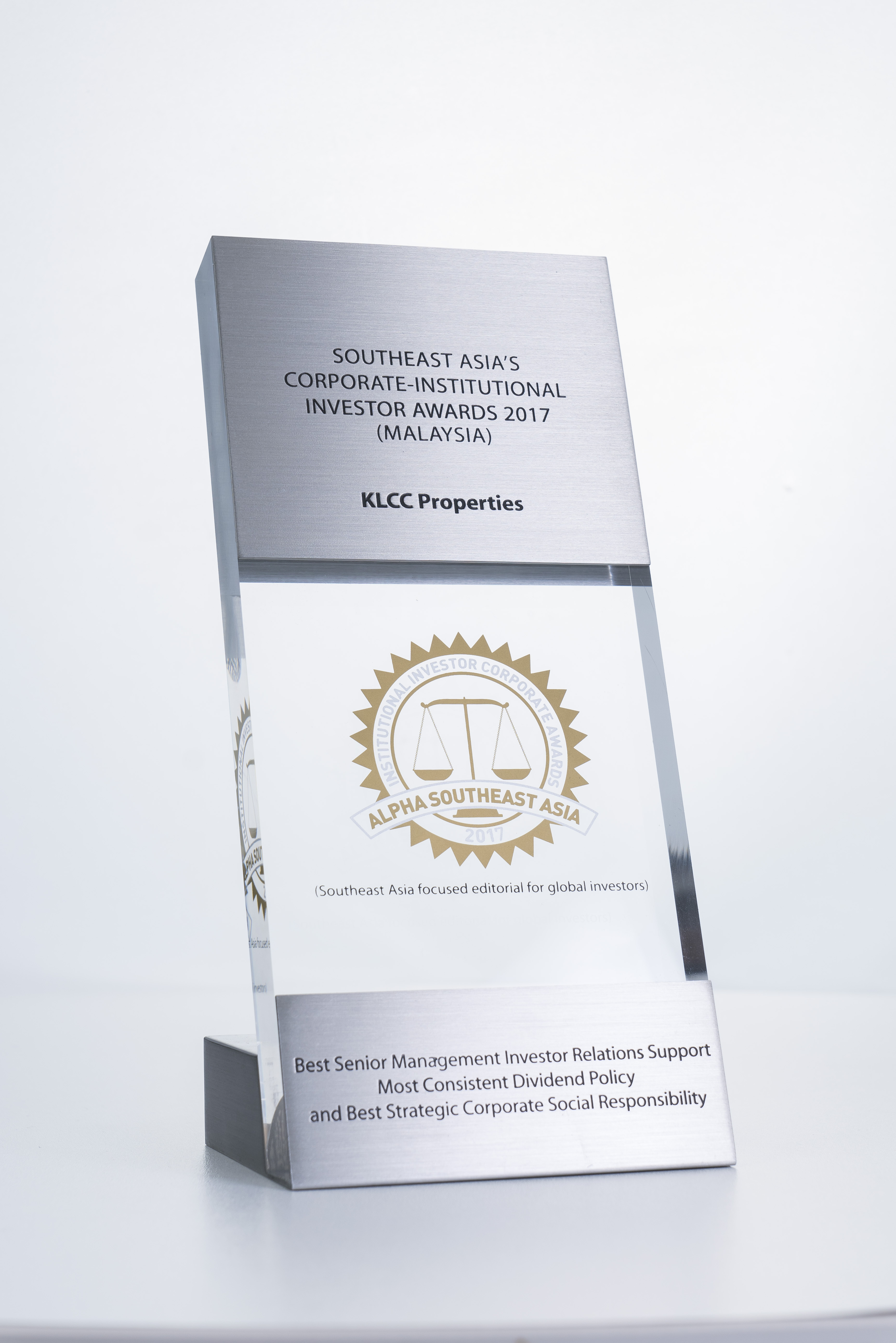 The Asset Corporate Awards 2017
- Excellence in Environmental, Social and Corporate
Governance – Gold Award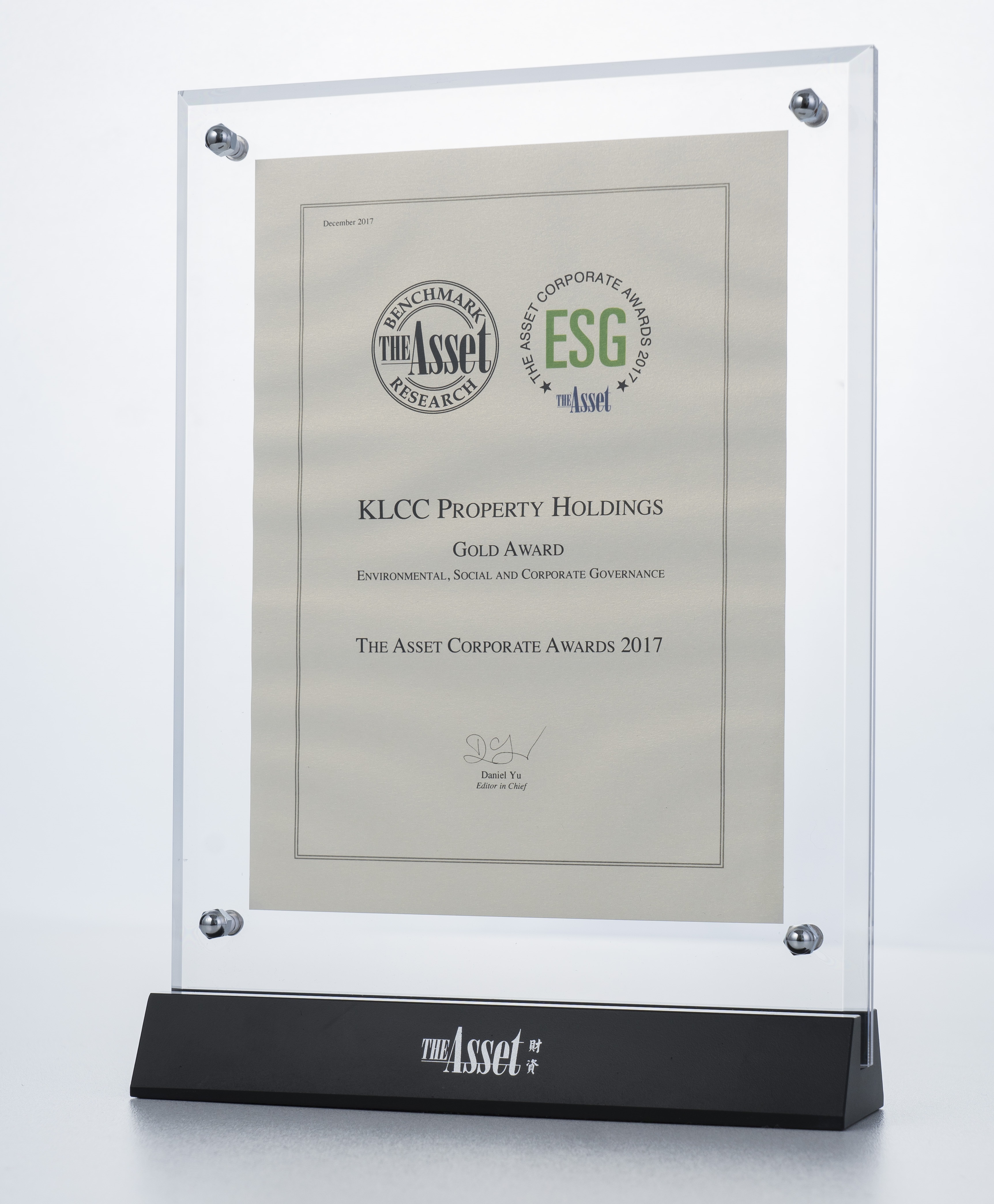 The Asset Corporate Awards 2016
- Excellence in Governance, CSR & Investor Relations Benchmarking – Gold Award
Southeast Asia's Institutional Investor-Corporate Awards 2016 (Malaysia)
- Most Organised Investor Relations
- Best Senior Management Investor Relations Support
- Most Consistent Dividend Policy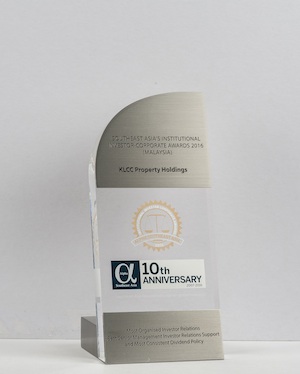 Alpha Southeast Asia Deal Awards (Borrower/Issuer Awards)
- Best Islamic REIT Deal 2013 in Southeast Asia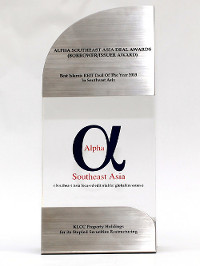 Southeast Asia's Institutional Investor Corporate Awards (Malaysia)
- Most Organised Investor Relations in 2013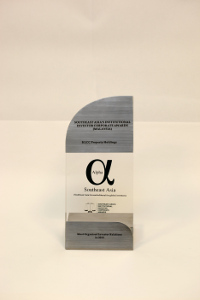 The Edge Billion Ringgit Club Awards 2013
- Most Profitable Company (Property & REIT)
- Best Performing Stock (Property & REIT)
Euromoney
- Best Overall Developer in Malaysia 2013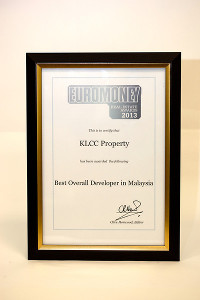 - Best Office and Business Developer in Malaysia 2013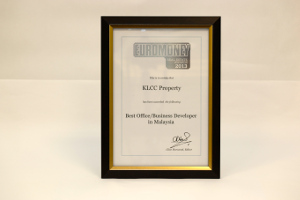 - Best Mixed Use Developer in Malaysia 2013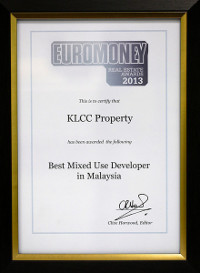 - Best Newly Listed Company in Asia 2005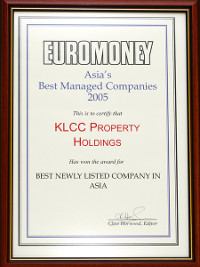 Top Property Developers Awards 2012
- The Edge Property Excellent Award 2012
KLCC REIT
Council of Tall Building and Urban Habitat (CTBUH) 50th Anniversary
- Top 50 Most Influential Tall Buildings of the Past 50 Years (PETRONAS Twin Towers)
The 6th Edition REITS Asia Pacific Awards 2019
- Best of the Breeds REIT in Retail (Malaysia)
- Best of the Breeds REIT in Office (Malaysia)
- Best Investor Relations Asia Pacific (Platinum Award)

The EdgeProp Malaysia's Best Managed Property Awards 2019
- Bronze Award for Above 10 years non-strata office category (Menara ExxonMobil)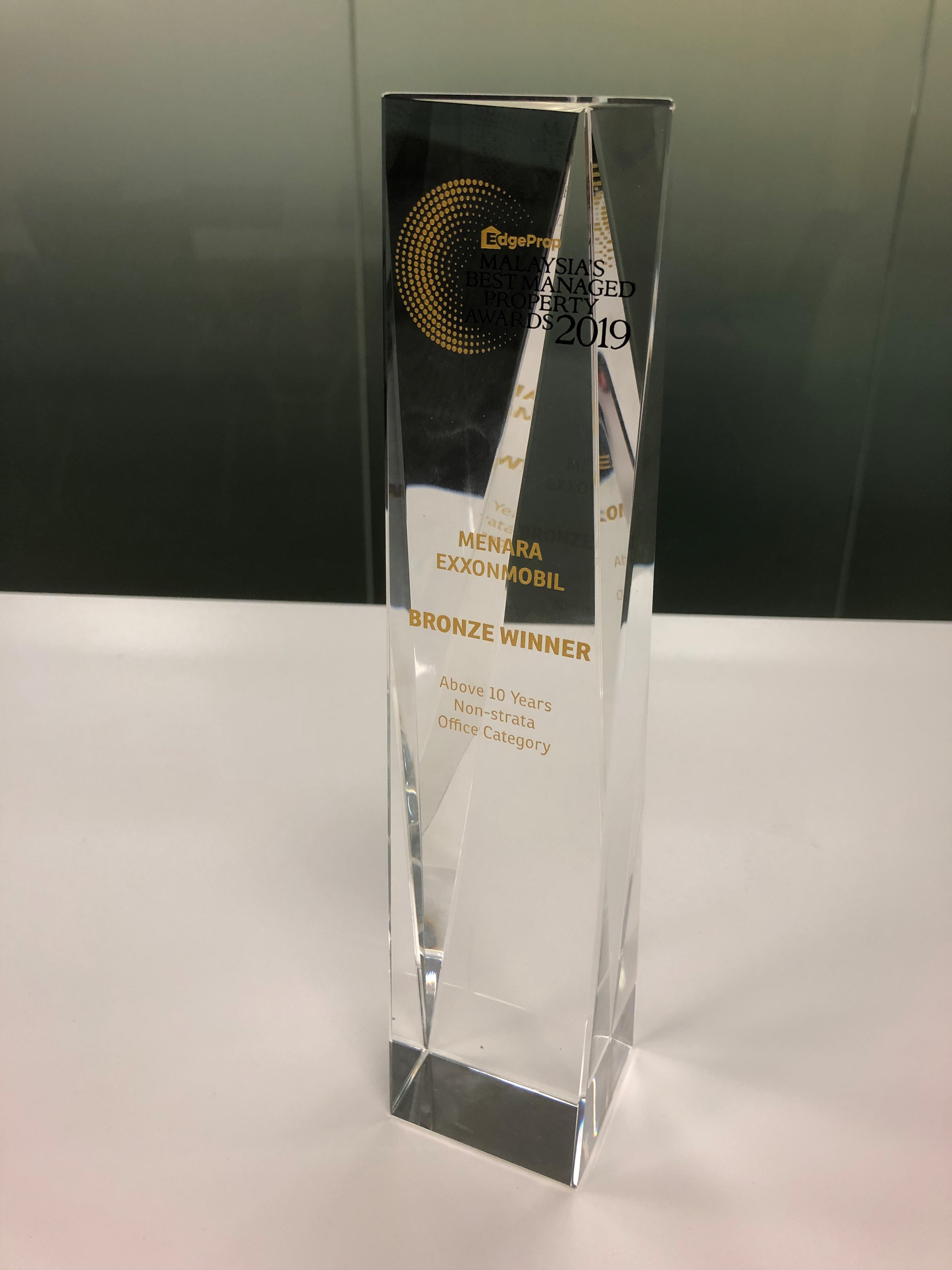 The 5th Edition REITS Asia Pacific Awards 2018 - Best of the Breeds REIT in Retail (Malaysia)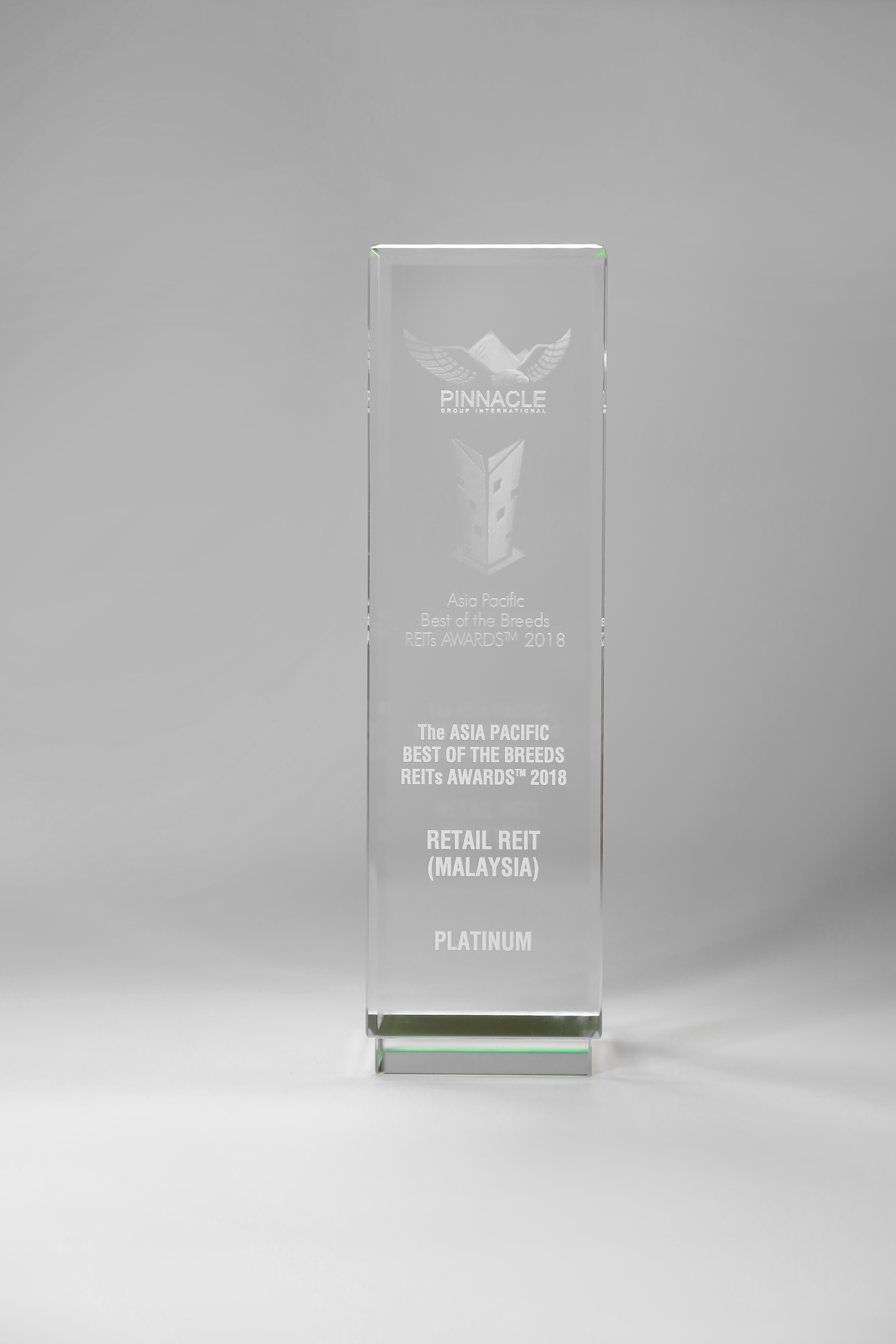 - Best of the Breeds REIT in Office (Malaysia)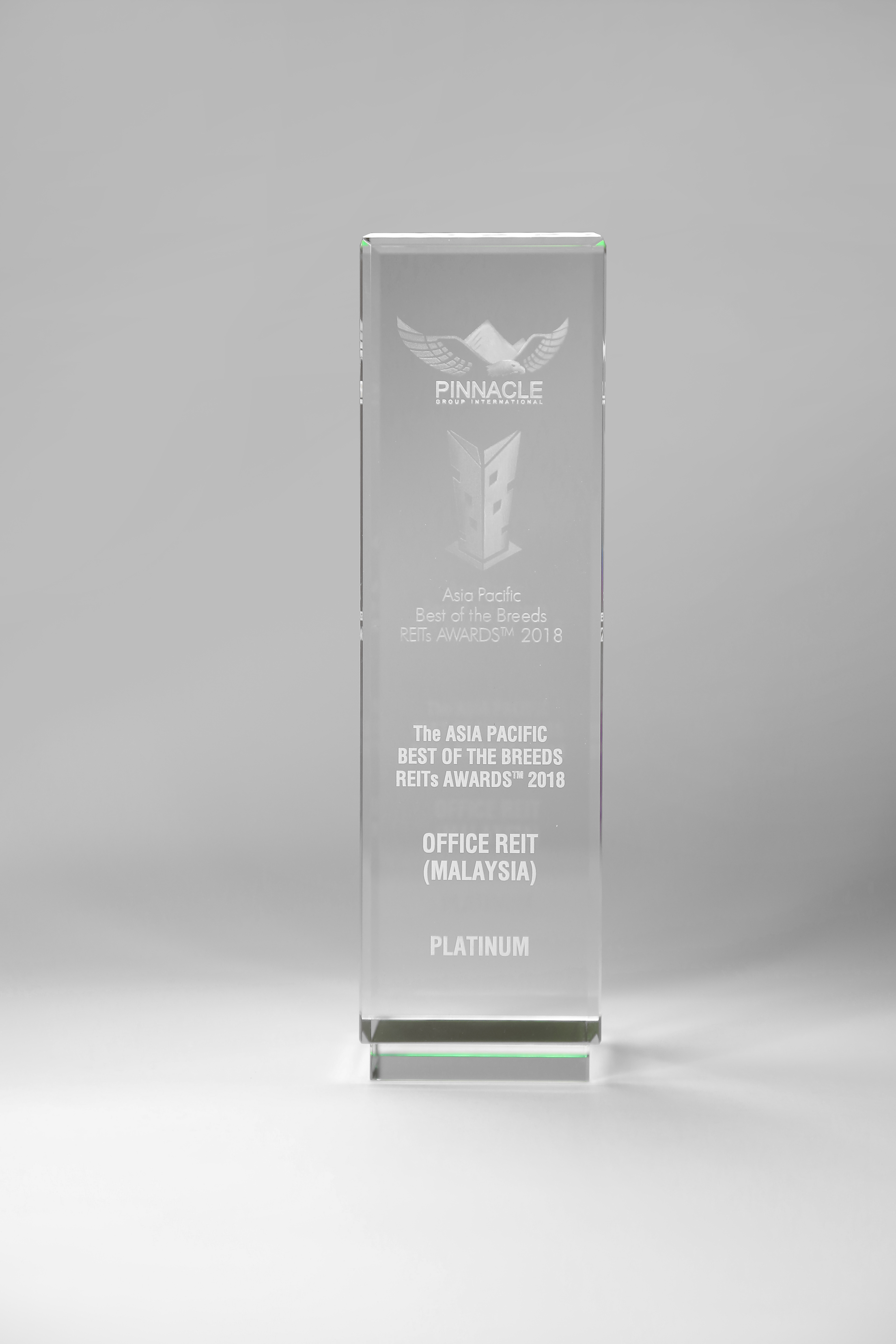 The Billion Ringgit Club Corporate Awards 2017, 2018
- Highest Return on Equity Over Three Years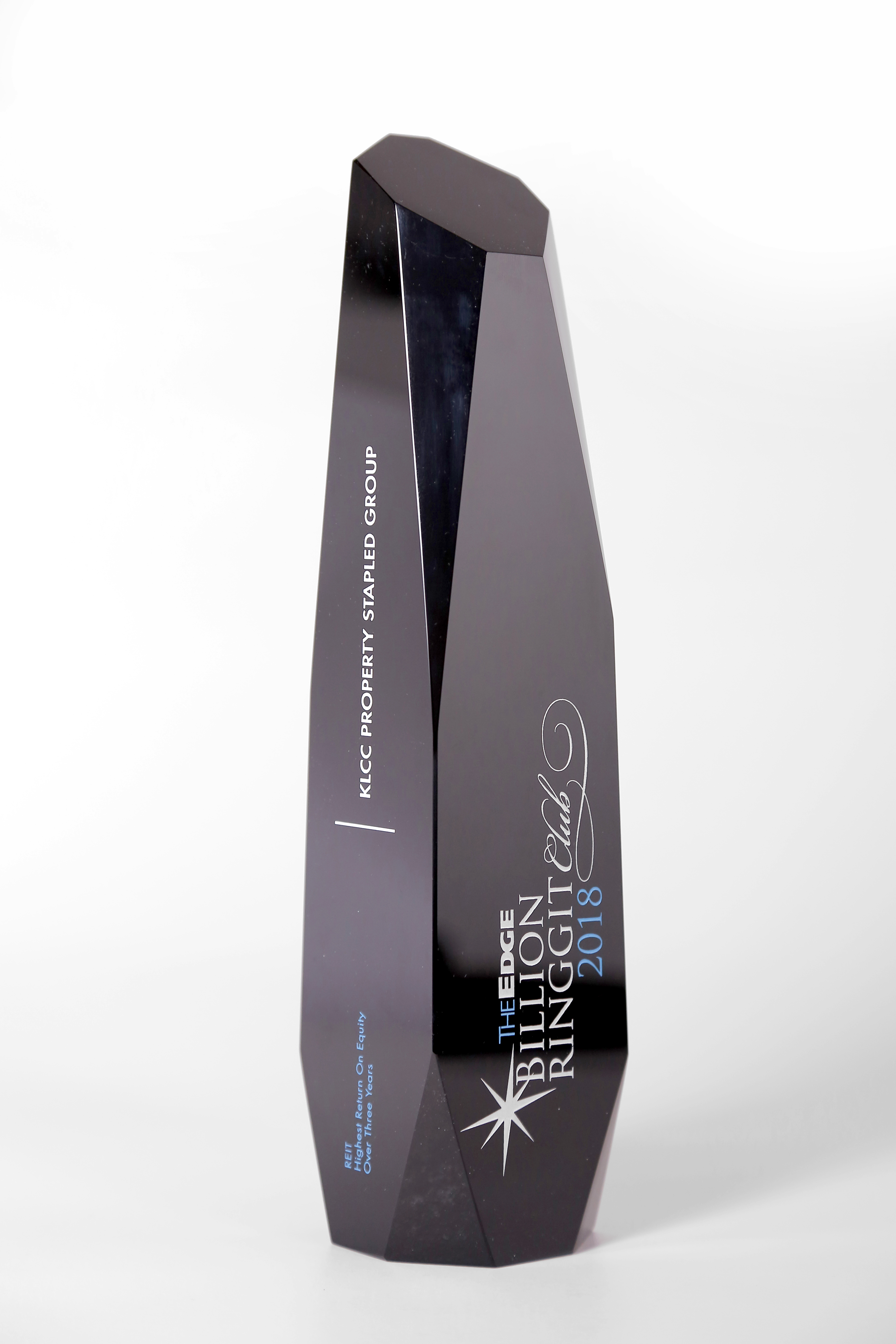 TheEdgeProperty.com Malaysia's Best Managed Property Awards 2017

- Gold Award for Non-Strata Commercial Category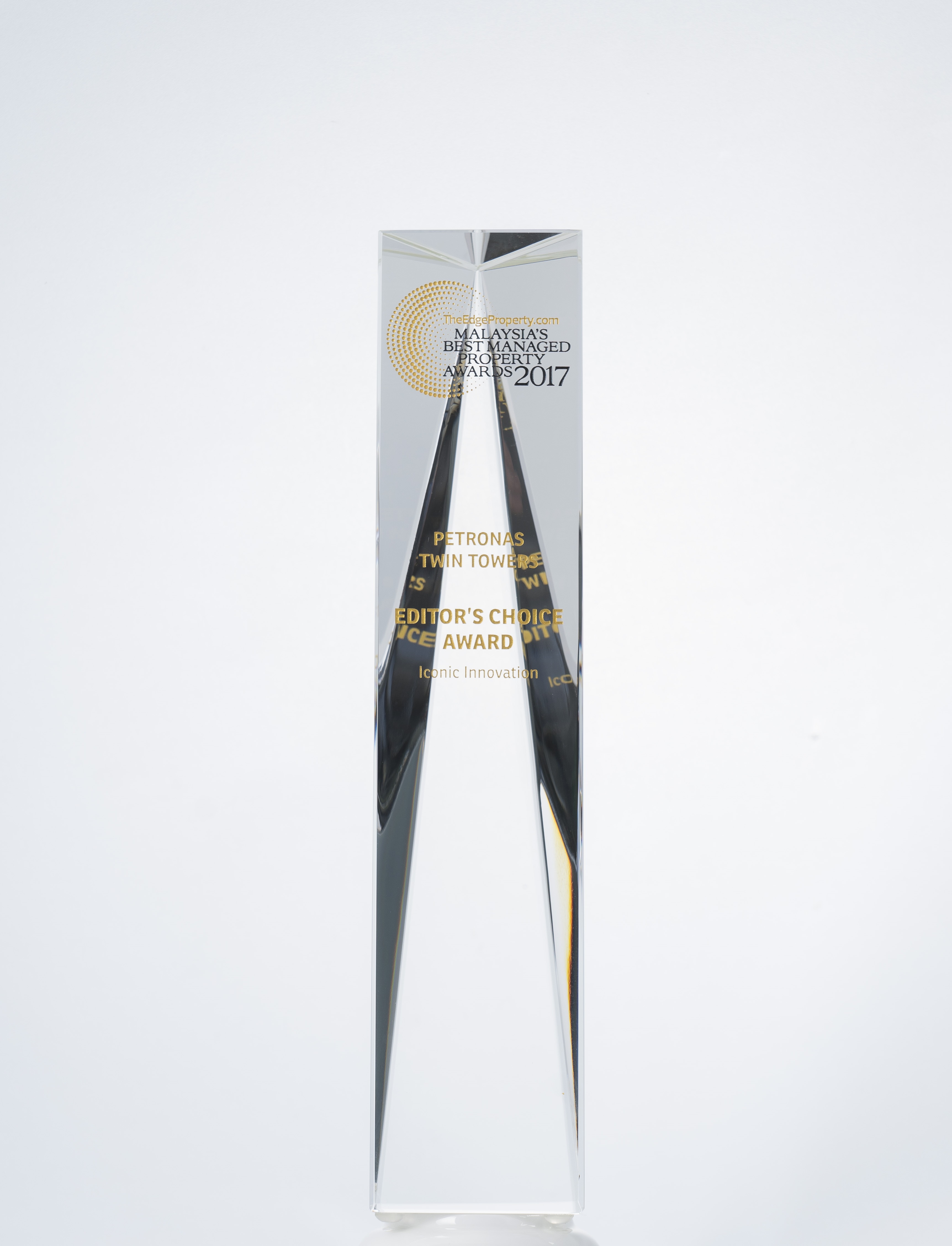 - The Editor's Choice Award for Iconic Innovation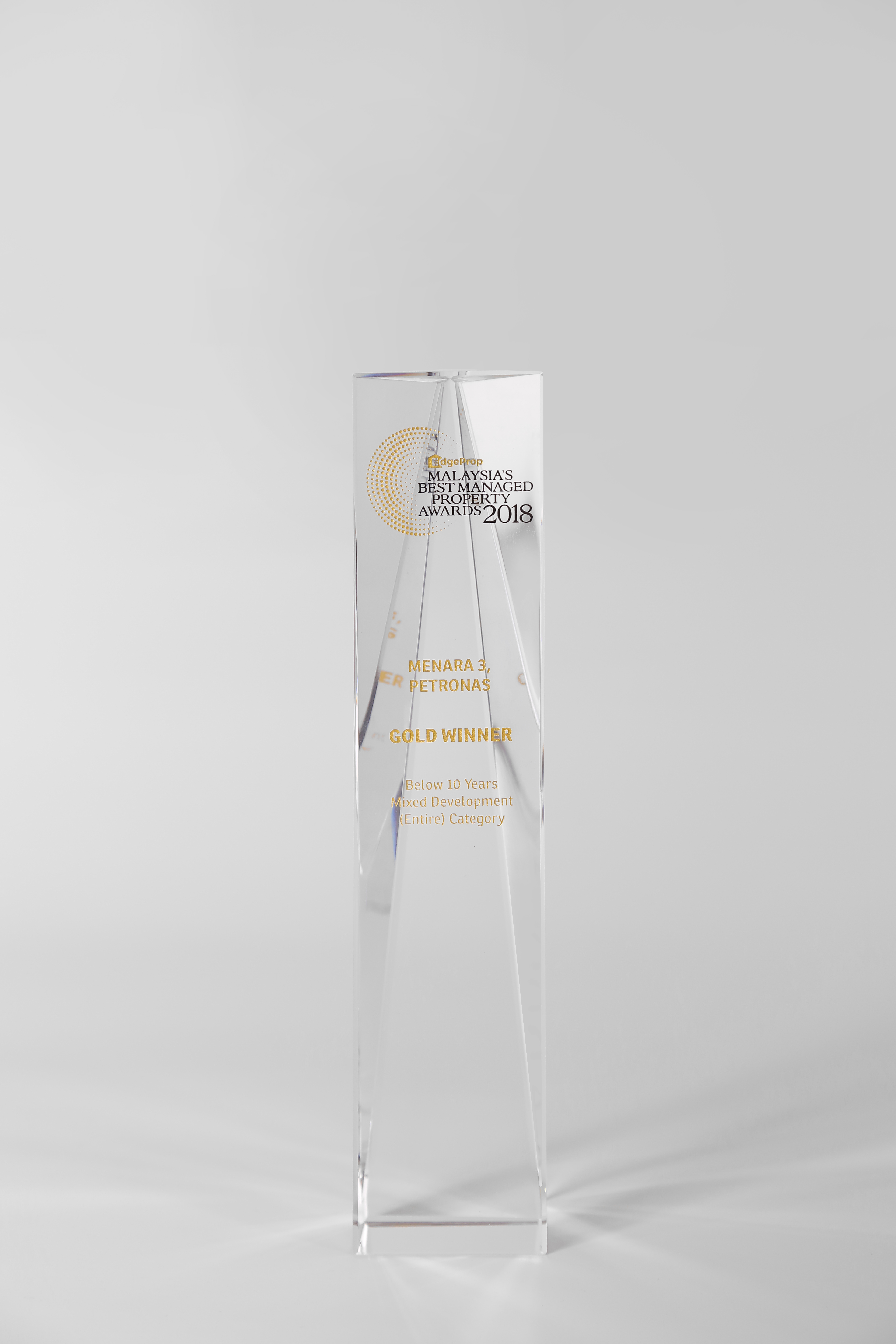 The 4th Edition REITS Asia Pacific Awards 2017

- Best of the Breeds REIT in Retail (Malaysia)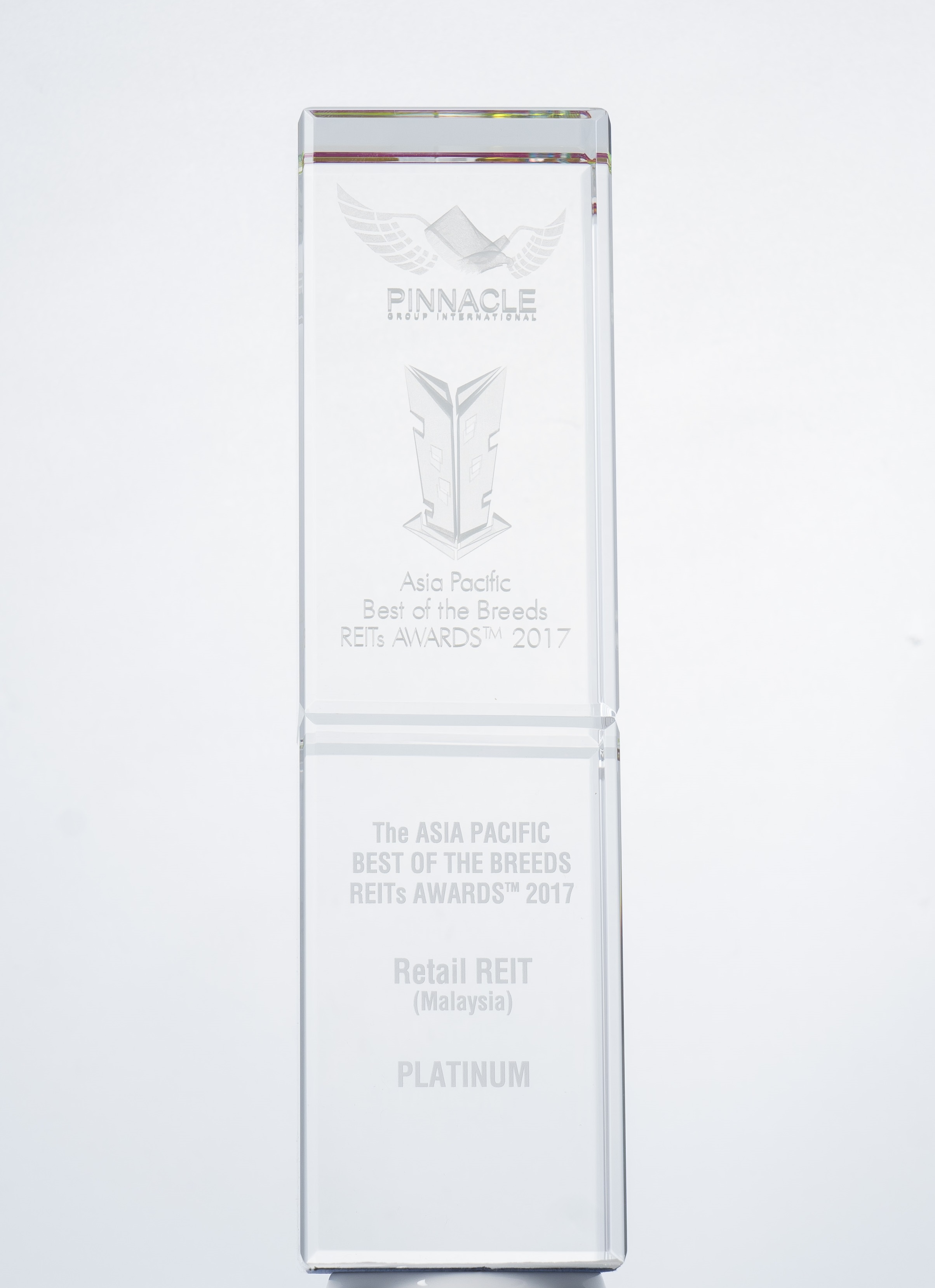 - Best of the Breeds REIT in Office (Malaysia)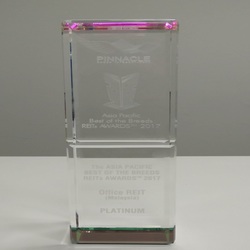 Fortune Times' REITs Pinnacle Awards 2017

- Most Value Creation REIT in Asia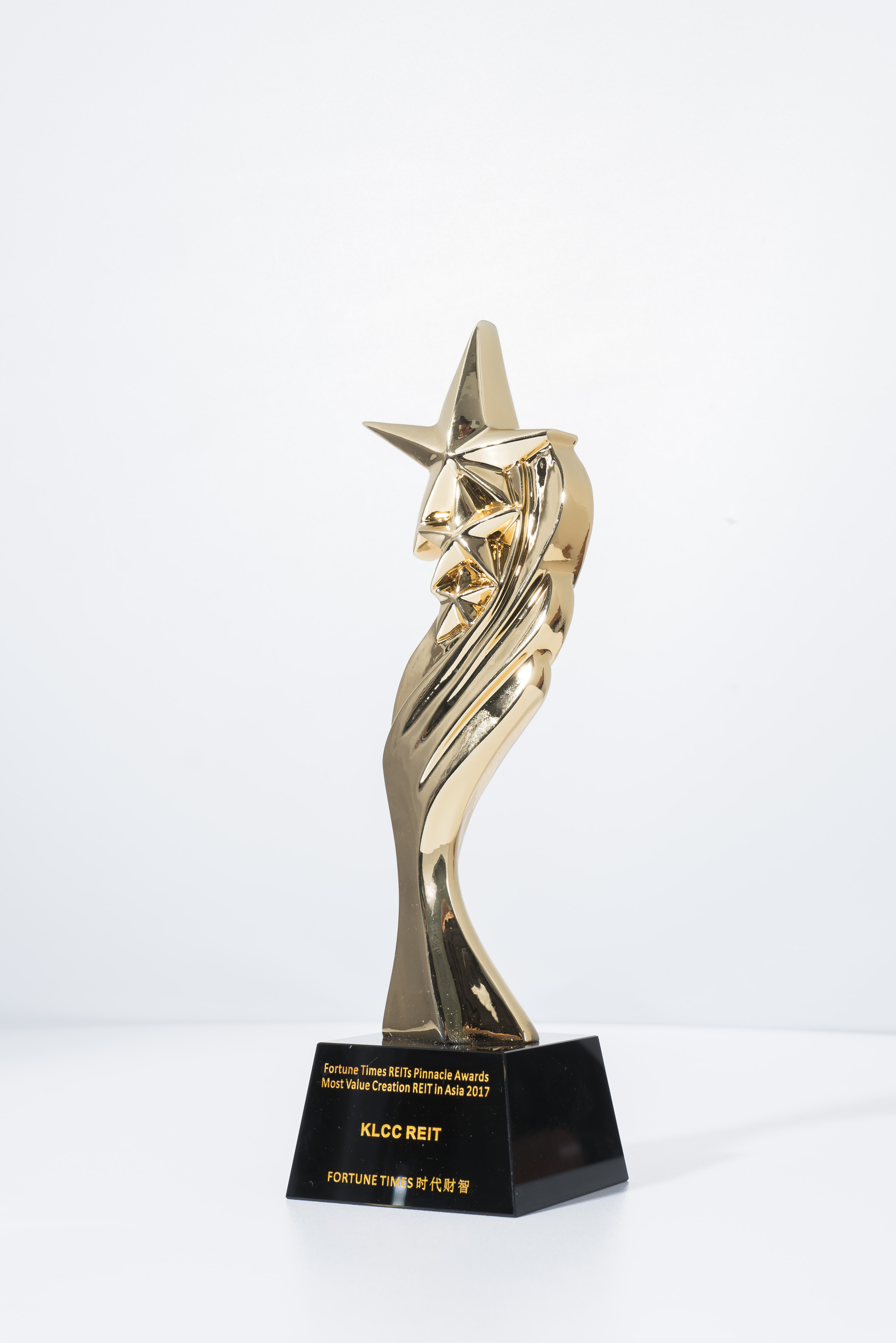 The Edge Billion Ringgit Club Awards 2016
- Highest Return on Equity Over Three Years – REIT Category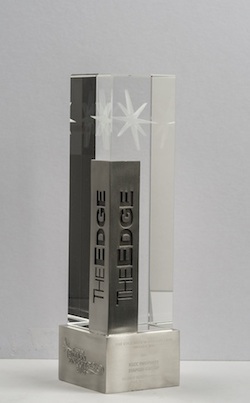 Asset Asian Awards 2015
- Best REIT SUKUK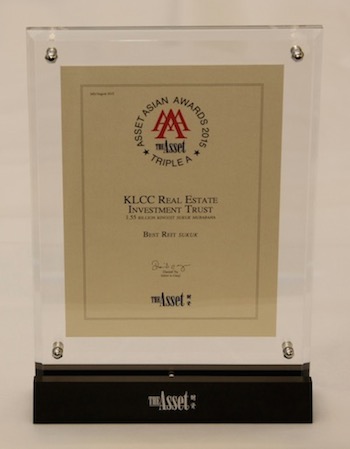 RAM Ratings League Awards 2015
- Blue Print Award 2014 - New Real-Estate Benchmark Deal

Alpha Southeast Asia Deal Award (Borrower/Issuer Award)
- Best Islamic REIT Deal of the Year 2014 in Southeast Asia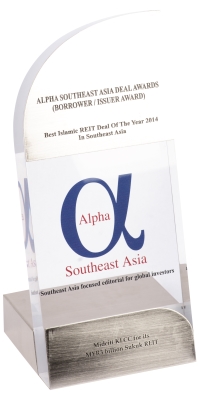 Islamic Finance News Awards

- Real Estate Deal of the Year 2014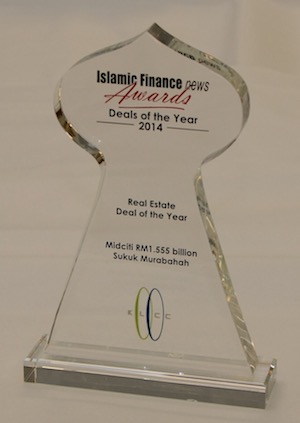 - Malaysia Deal of the Year 2014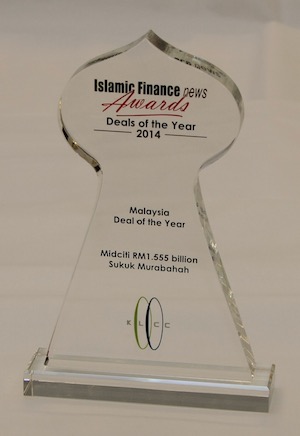 KLCC Urusharta Sdn Bhd
MSOSH Occupational Safety & Health (OSH) Award 2021
- Gold Class 2 Award (Services Sectors)
Royal Society for Prevention of Accident (RoSPA) Awards 2021
- Gold Award
MalaysiaGBC Leadership in Sustainability Awards 2020
- Best Sustainability Leadership for Facility Management
International Large Urban Parks Award 2020
- World's Top 5 Best Urban Park (KLCC Park)
Royal Society for Prevention of Accident (RoSPA) Awards 2020
- Gold Award
Royal Society for Prevention of Accident (RoSPA) Awards 2019
- Silver Award
MSOSH OSH Award Program 2019
- Service Sector (Gold Award)
TheEdgeProperty.com Malaysia's Best Managed Property Awards 2018
- Contribution to the Nation (KLCC Park)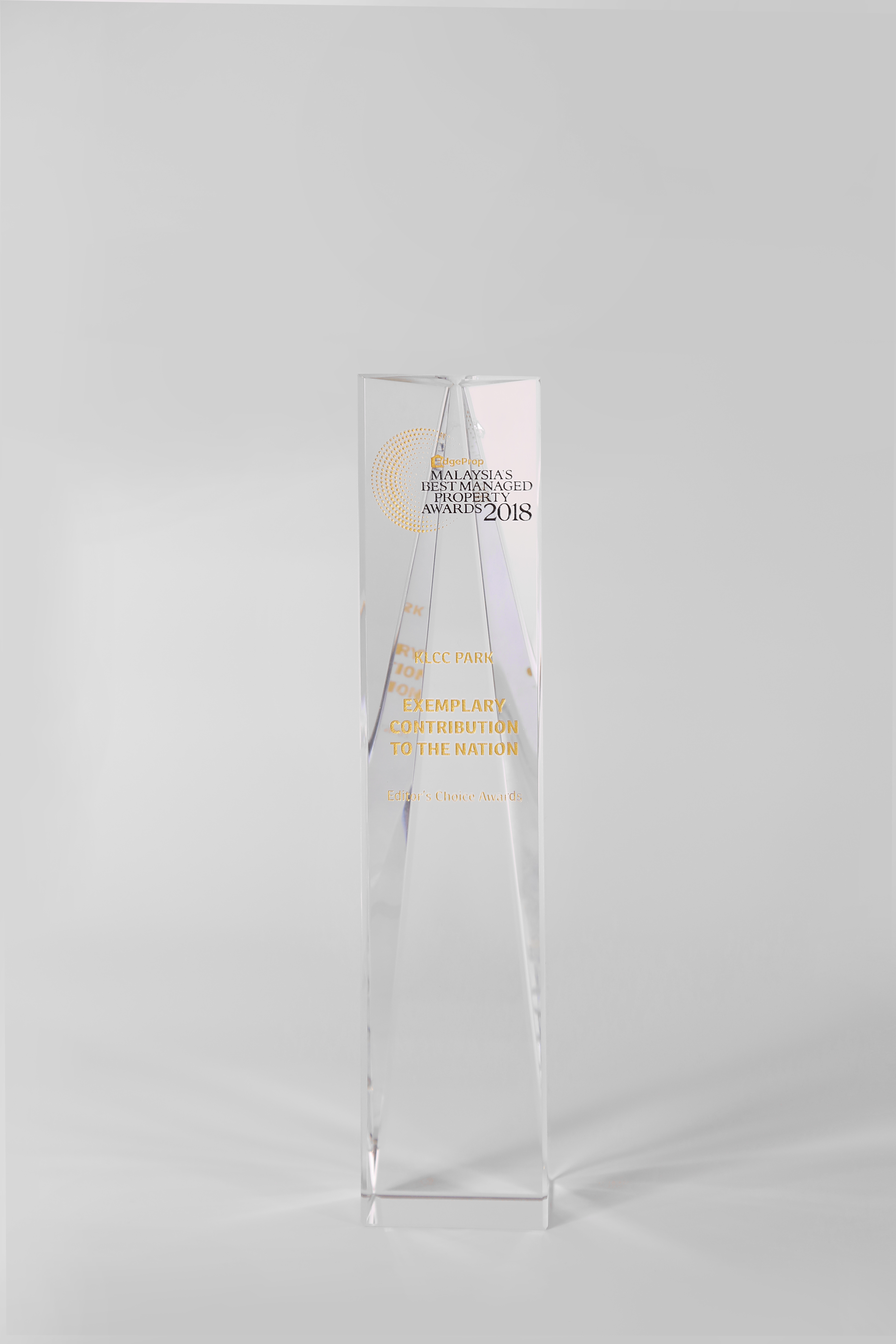 ISO 45001:2018 (Occupational Health & Safety Management System)

The 8th International Conference on World Class Sustainable Cities (WCSC 2016)
- The Best Public Space (KLCC Park)
ISO 18788:2015 (Security Operations Management System)

ISO 37001:2016 (Anti-Bribery Management Systems)

ISO 9001: 2015 (Quality Management System)

ISO 14001:2015 (Environmental Management System)

National Occupational Health & Safety Excellence Awards 2014 (Business Services Category)
- Ministry of Human Resource
HSE Award - Anugerah Cemerlang Keselamatan dan Kesihatan Pekerjaan Kebangsaan 2011 and 2014 awarded by the Ministry of Human Resource (Kementerian Sumber Manusia)
- Certificate for Excellence in Investor Relations
Implementation of highest standard of maintenance (with the introduction of CMMS) FIABCI Prix d'Excellence 2002
- Award presented to the PETRONAS Twin Towers
KLCC Parking Management Sdn Bhd
Royal Society for Prevention of Accident (RoSPA) Awards 2021
- Silver Award
Royal Society for Prevention of Accident (RoSPA) Awards 2020
- Silver Award
MOSHPA OSH Excellence Awards 2019 for OSH Management in Car Parking (Platinum Diamond Award)
MOSHPA OSH Excellence Awards 2018 for OSH Management in Car Parking (Silver Platinum Premier Award)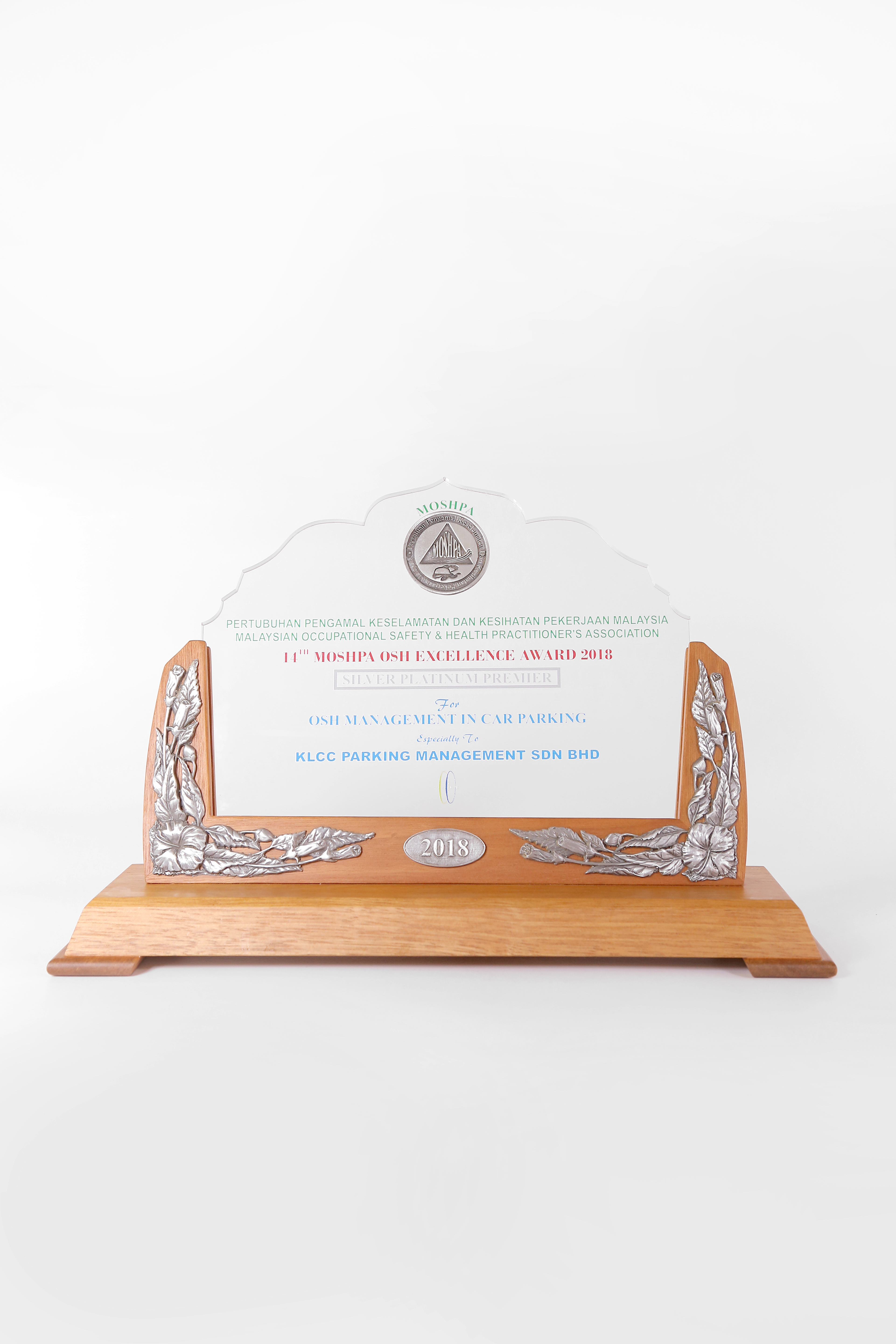 Listed in The Malaysia Book of Records for being the First Parking Management Company to receive ISO 9001:2015, ISO 14001:2015 and OHSAS 18001:2007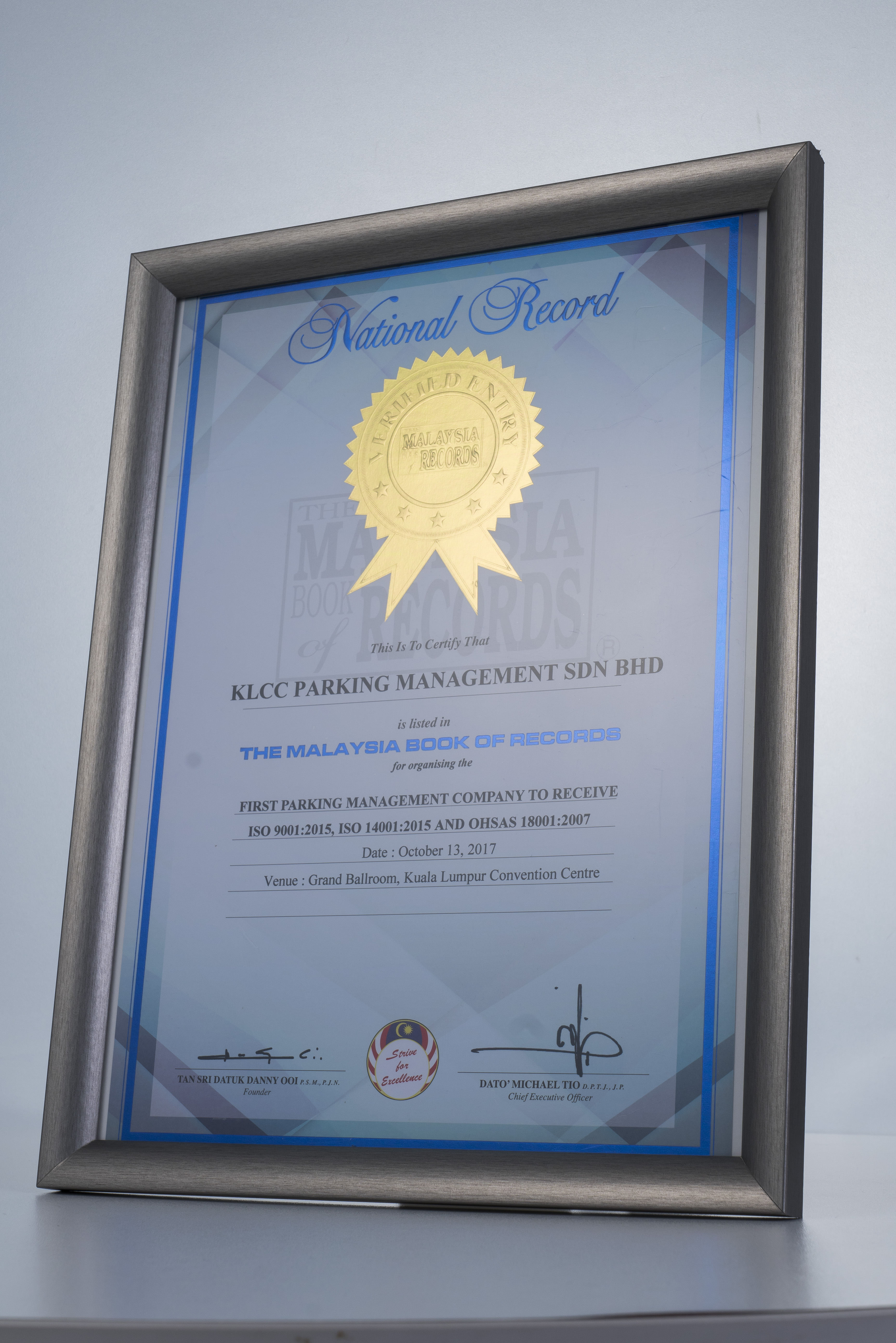 MOSHPA OSH Excellence Awards 2017 for OSH Management on Parking Management Services (Platinum Award)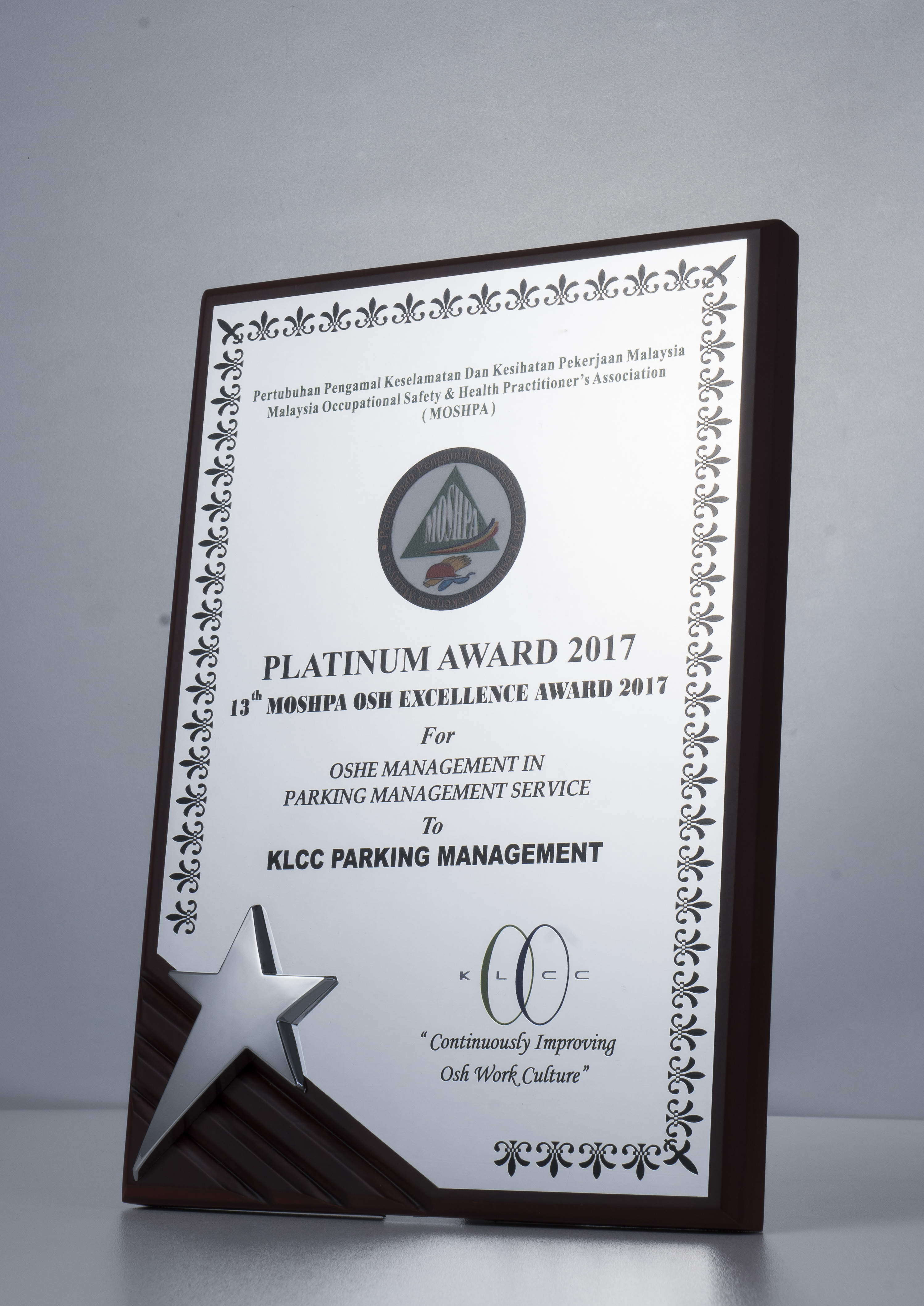 MOSHPA OSH Excellence Awards 2016 for OSH Management on Parking Management Services (Gold Award)
ISO 9001 : 2015 (Quality Management System)
ISO 14001:2015 (Environmental Management System)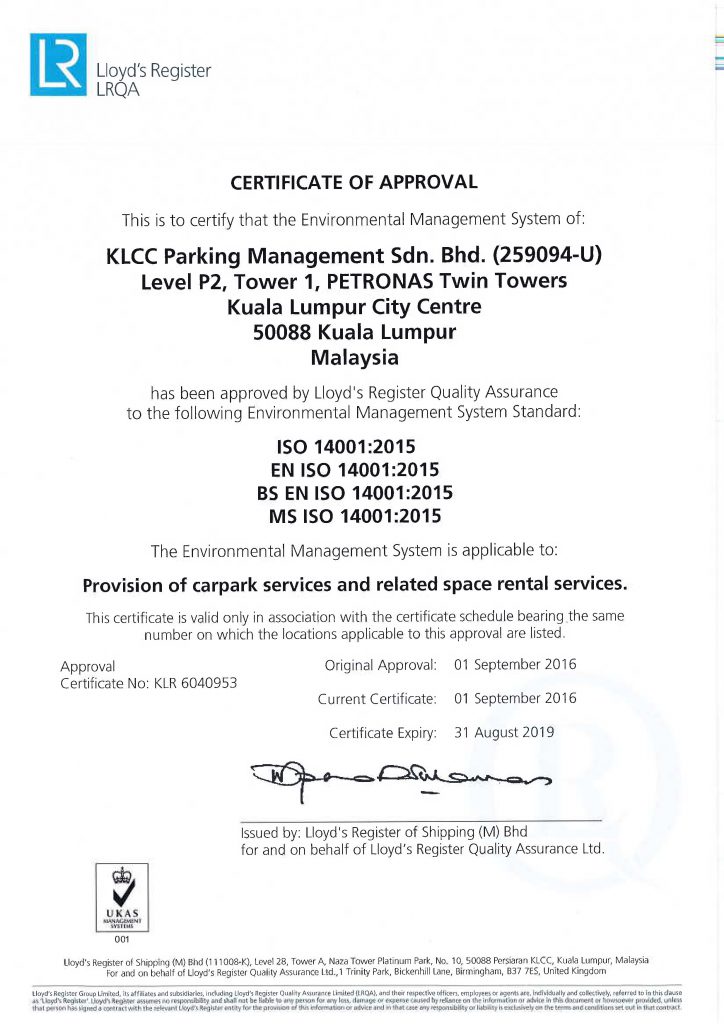 OHSAS 18001:2007 (Occupational Health & Safety Management System)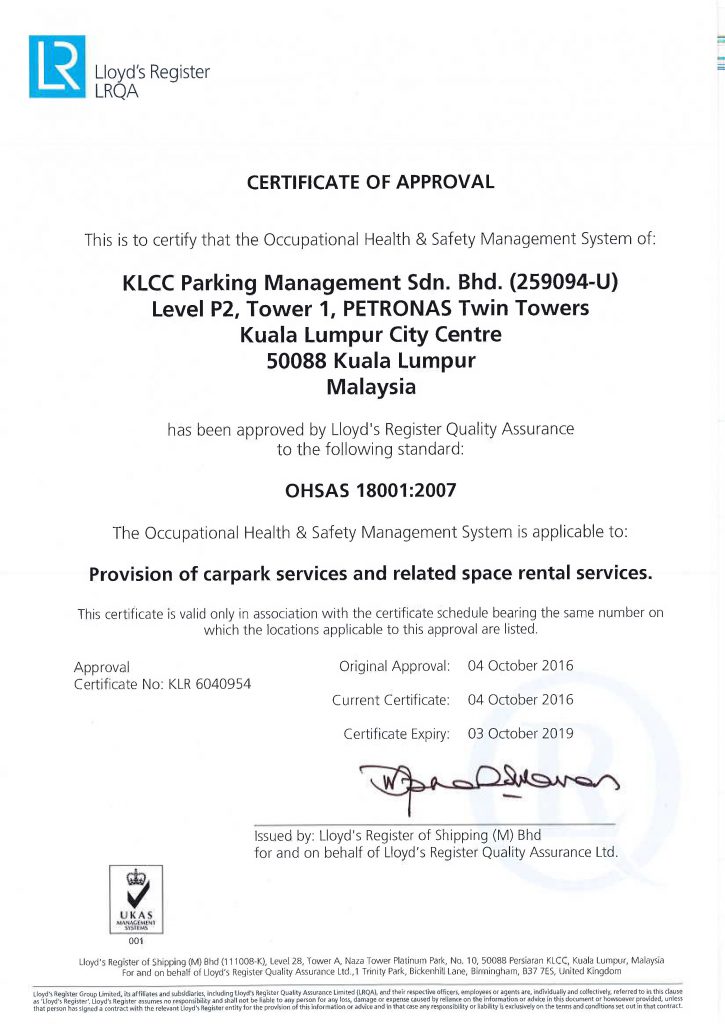 MOSHPA OSH Excellence Awards 2015 for OSH Management on Parking Management Services (Gold Award) in November 2015
Largest Parking Guidance System (PGS) Project by CirControl, Spain