Sustainability Milestones
As a leader in the REIT sector, we recognize the importance of the role we play within the industry. Industry stakeholders are increasingly concerned about sustainability practices and we continue to respond to these expectations in parallel with our own ambitions towards sustainability.
Our sustainability journey in the last five years saw us achieve milestones through the years in our continued learning and driving sustainability initiatives within KLCCP Stapled Group. We will keep advancing our sustainable practices to improve performance and embrace the challenge of stretch-goals for a future-proof sustainable business.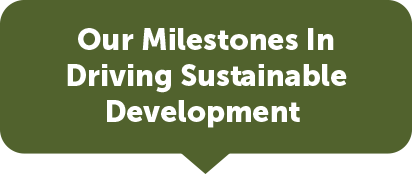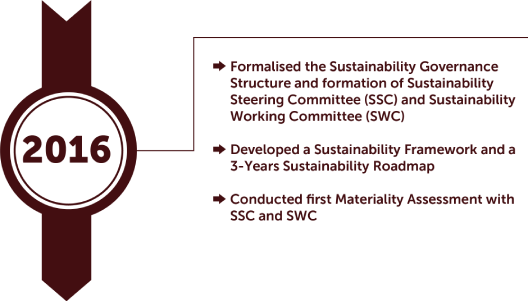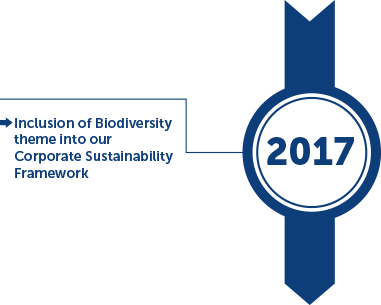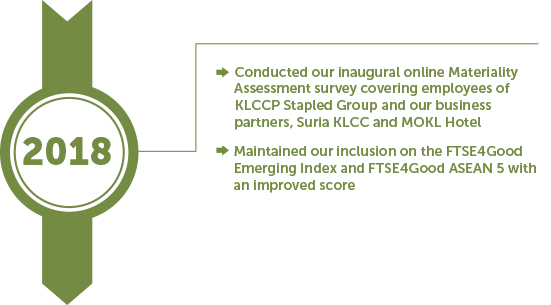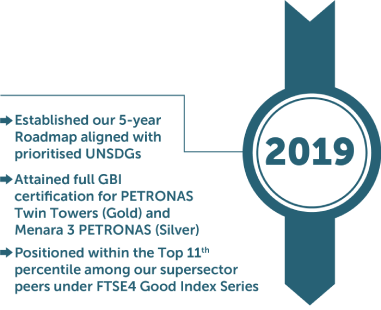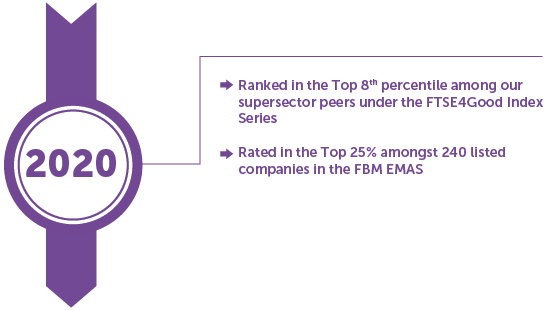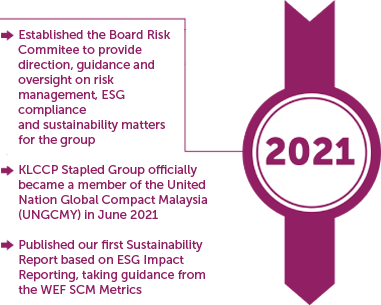 Governance Structure
The Groups' governance structure which was formalised in 2016 was designed to build on the capacity to pursue sustainable goals.
Sustainability in KLCCP Stapled Group is governed across various levels within the organisation – the Board, CEO, and Sustainability Steering Committee (SSC). The SSC comprises heads from all major business functions - Strategy & Finance, HSE, Legal, Development & Leasing, Human Resource, Risk Management and Facilities Management which ensures the development of sustainability strategies represent the wider interests of the Group.
The SSC supported by a working committee plays the key coordinator in ensuring sustainability matters are addressed in each department and reports to the CEO who is responsible for driving the implementation of sustainability strategy for KLCCP Stapled Group and reports the progress to the Board.
KLCCP Stapled Group Sustainability Governance Structure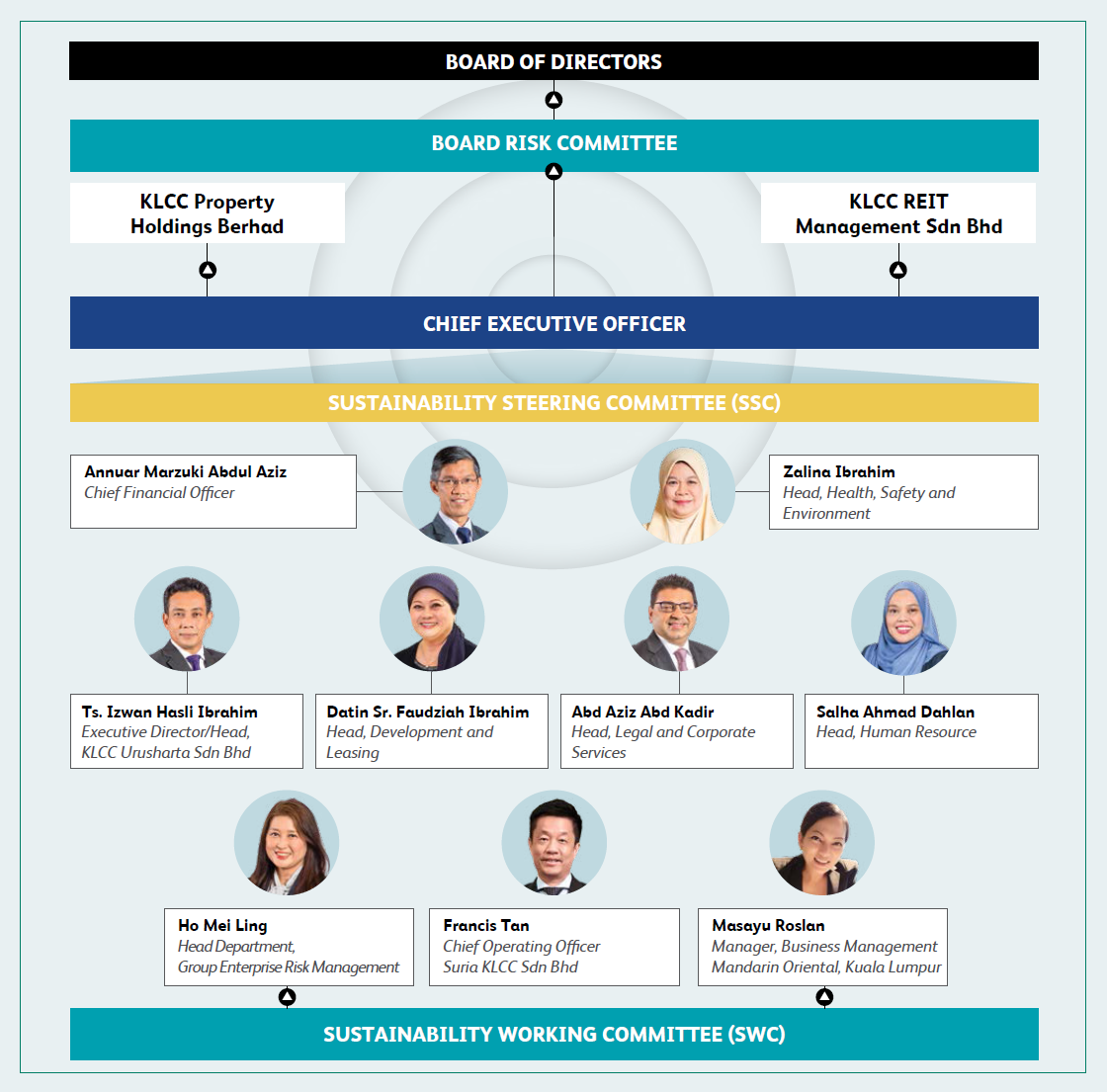 Sustainability Framework
We established the KLCCP Stapled Group's Corporate Sustainability Framework (CSF) which encapsulates our principles on sustainability and aligns to our priority areas under the ESG sustainability aspects.
The CSF serves as a guide in managing the strategic and operational risks and opportunities which supports our business strategies, sustainability approach and objectives.
As we commit to uphold the Sustainability Agenda, our actions are guided by their four sustainability lenses – Positive Social Impact, Responsible Governance, Continued Value Creation and Safeguard the Environment. This year we take guidance from the WEF Stakeholder Capitalism Metrics, with disclosures focusing on four key themes - People, Planet, Prosperity, and Peace.
Applicable across all our business operations, our 12 material matters were classified into four key themes:
PEOPLE - Our People, Human Rights and Labour Practices, Security, Safety and Health
PLANET - Climate Change and Environmental Management
PEACE - Corporate Governance and Business Ethics, and Risk and Crisis Management
PROSPERITY - Financial Sustainability, Economic, Social and Industry Growth, Supply Chain Management, Customer and Tenant Management and Corporate Social Investment
Our sustainability framework encapsulates our principles on sustainability, aligned to the United Nation's 2030 Agenda.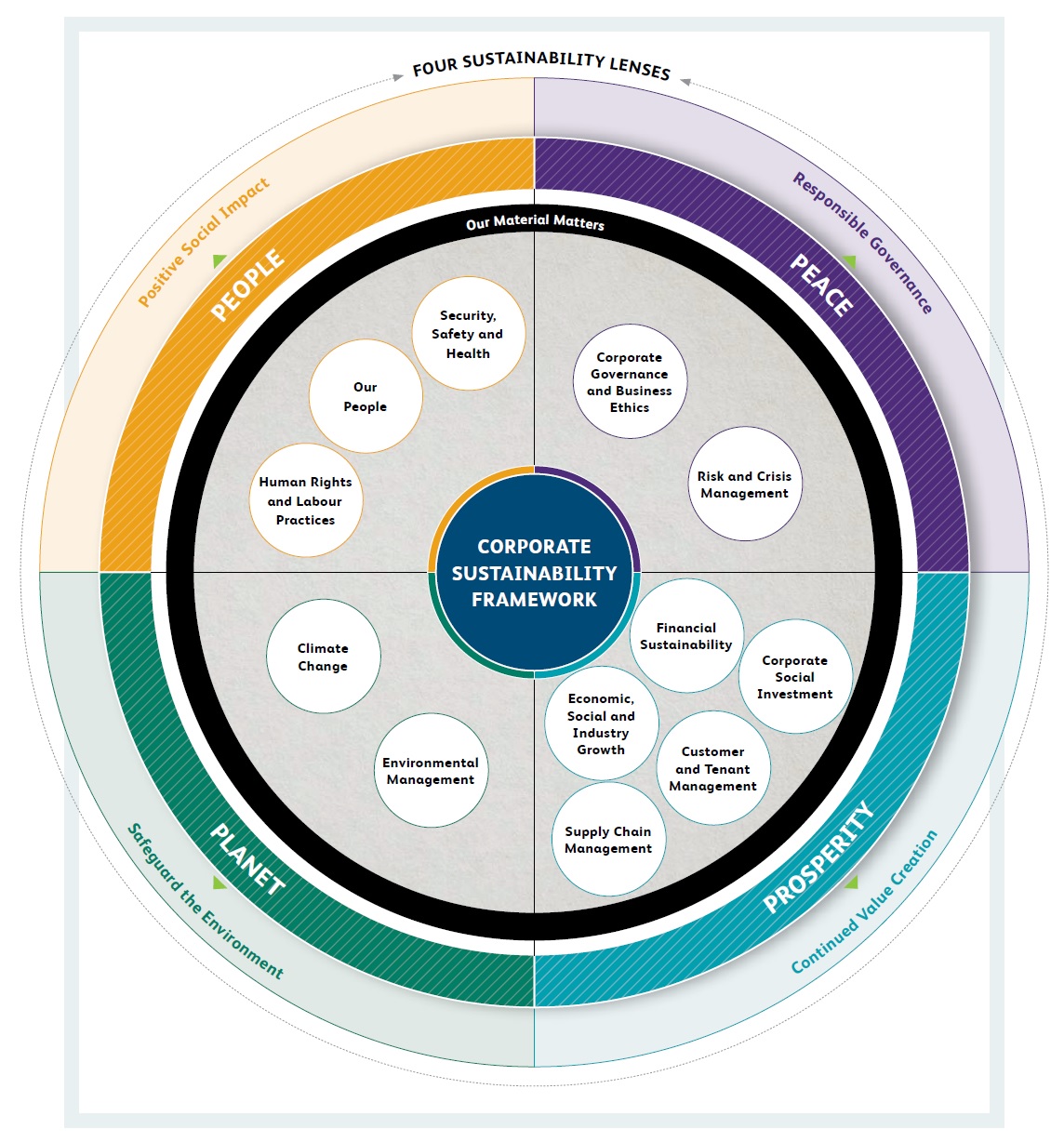 Towards Supporting The United Nation's 2030 Agenda for Sustainable Development
This year we have taken guidance from the World Economic Forum's Stakeholder Capitalism Metrics (WEF SCM) which is also aligned to the UN's 2030 agenda for sustainable development that shape and represent the 17 sustainable development goals.




Material Matters
The principle of materiality is becoming the essential filter to determine which ESG indicators will be most significant to stakeholders. In identifying the material matters, we evaluated our sustainability context, stakeholder issues and the associated risks and opportunities for KLCCP Stapled Group to streamline our actions to benefit all stakeholders concerned. We considered both internal and external factors affecting the industry in our review and assessed its impact on our business and stakeholders.
Our Four Stages of Materiality Assessment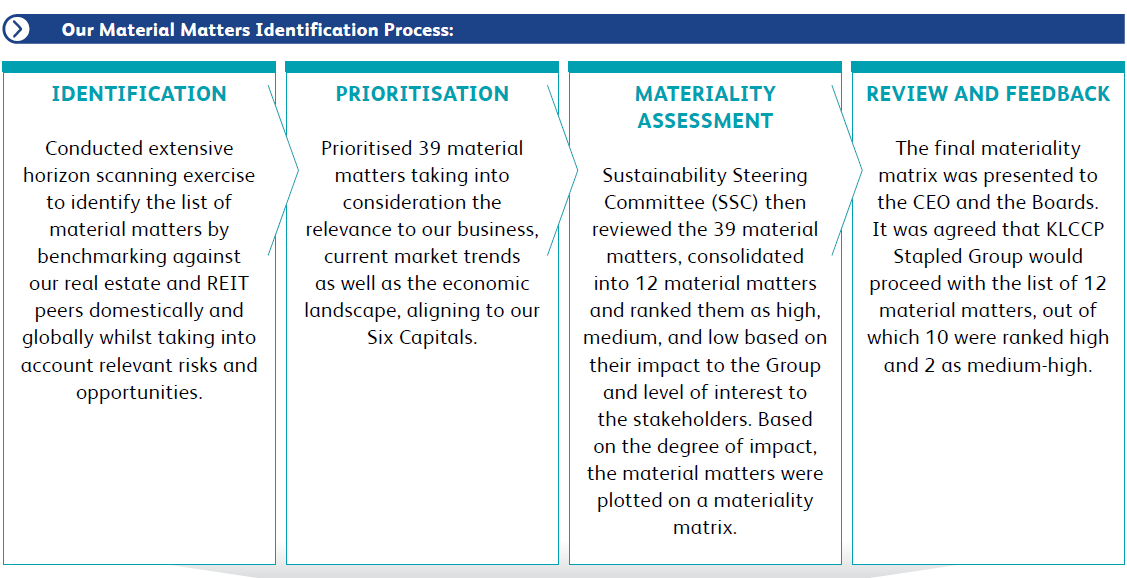 Materiality Matrix 2020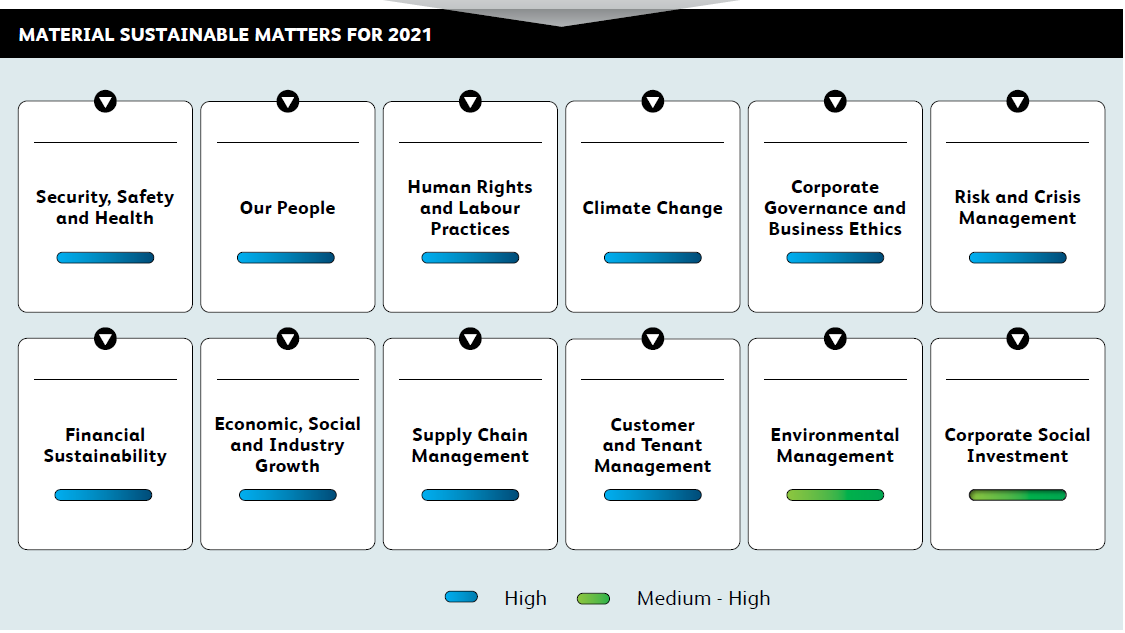 Stakeholder Management
Our key stakeholders are defined by their significance, interest, impact and influence on our businesses. Every group of our stakeholders is important to us and we continue to engage them to address their concern, obtain their views and feedback on areas of interests and manage their expectations.
We engaged and updated them on our operations, performance and plans via both formal and informal channels. By engaging effectively with our stakeholders, we will not only contribute towards improving our performance but also enriching the lives of our community.